Salesforce.com outage: Top 10 cloud stories of 2010
Salesforce.com's January outage had almost all its customers experiencing an hour of downtime, ensuring that it would be one of the biggest cloud stories of 2010.
4. Salesforce.com suffers service outage after operations failure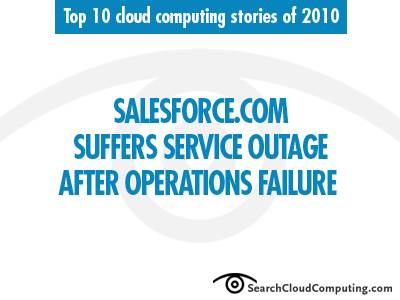 In a year packed with high-profile cloud computing outages, one of the more memorable was Salesforce.com's hour-long January incident.
The Software as a Service (SaaS) leader said that "systemic failure in its data center took out both normal operations and backup systems," a hiccup that brought the entire service down.
The outage also raised questions about Salesforce.com's aggressive software lock-in, a practice that keeps the company's Force.com platform tethered to Salesforce.com's own services. But in the end, it was just another reminder that 100% reliability, in regard to cloud services, remains a work in progress.