SearchCloudComputing.com Advisory Board
The SearchCloudComputing.com Advisory Board is populated by top IT personnel, all of whom have a comprehensive knowledge of cloud computing.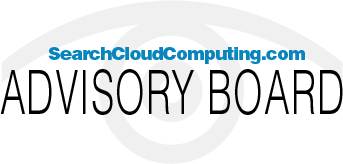 SearchCloudComputing.com counts on our team of CIOs, IT directors and consultants to keep our readers in the know and help us provide the best cloud computing content possible. A few times a year, these experts get together with our editorial team to help guide our editorial coverage of cloud computing; discussing trends, spotting areas we might be missing and connecting us with other experts.
We are extremely grateful to the following individuals who serve on our advisory board. If you are an independent expert in this field and would like to be on our board, get in touch.


Harold Brooks, the chief executive officer of the American Red Cross Bay Area Chapter, is responsible for overseeing the strategic development of one of the leading chapters in the country, serving six counties in the San Francisco Bay Area; and for managing day-to-day operations for nearly 2,000 volunteers and more than 60 employees. Harold served as the Red Cross liaison to the Atlanta Olympic Games in 1996, where he facilitated the chapter's role in providing nearly 1,000 volunteer first aid responders.

Tim Crawford, CIO of All Covered, is a renowned thought leader in cloud computing and IT optimization strategies. He has over 20 years of IT experience in operations, infrastructure, information security and core applications. Tim serves as an advisor to global enterprises, government agencies, venture capital firms and startups. Tim received an MBA in International Business with Honors and a Bachelor of Science degree in Computer Information Systems, both from Golden Gate University.

Dave McCandless, CISA, is the director of IT for Zebra Enterprise Solutions, a world leader in supply chain and locations solutions. He has 30 years of experience in systems development and operations for companies large and small, including AT&T/Bell Labs, Oracle, Bank of America, Chevron, and HedgeStreet. Dave holds a Bachelor of Science and Master of Science in Computer Science from Washington State University and the University of Wisconsin - Madison.

Mike Michalik, CEO of Cirrhus9, has over 18 years of experience in the IT services arena. He is responsible for building Cirrhus9 into a leader in the cloud computing business solutions service market and setting the vision for the company's future growth. Prior to Cirrhus9, Mike served as president and CEO of Marauder Brewing, Inc., a hand-crafted brewery startup. He gained his knowledge as a senior adviser for Pfizer Pharmaceuticals, Inc., in the data warehousing and business intelligence division.

Mike Pearl, PricewaterhouseCoopers' U.S. cloud computing leader, is one of the principal authors of the firm's digital transformation framework and cloud computing strategy. He has over 18 years of technology consulting experience delivering large scale transformation and technology consulting services to clients in the technology industry. Mike holds a Bachelors in Management Information Systems from the University of Notre Dame.

Anthony Skipper, VP of infrastructure and security at ServiceMesh, has over a decade of experience in software development and infrastructure management. His early career focused on consulting with Fortune 500 companies to develop their Web architectures, and he helped develop one of the first DRM implementations with Microsoft and Barnes & Noble. He moved to financial services in 2000 when he joined Merrill Lynch, as an architect and later as head of Application Infrastructure Services.
Dig Deeper on Public cloud and other cloud deployment models