Share this item with your network:
When the big cloud infrastructure providers aren't the right fit

freshidea - Fotolia
Specialty IaaS cloud providers meet unique IT demands
IT shops with specific workload requirements continue to choose specialty IaaS offerings over the more rigid services from cloud giants like AWS, Azure and Google.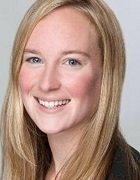 By
It's tough to deny Amazon Web Services' dominance in the public cloud market. But despite Amazon's growth, and that of the other two cloud vendors that make up the Big Three -- Microsoft Azure and Google Cloud Platform -- some IT pros opt to use smaller, specialty IaaS cloud providers.
AWS now accounts for more than 40% of the global infrastructure-as-a-service and platform-as-a-service markets, according to data from Synergy Research Group. Microsoft Azure, Google and IBM -- the next three biggest players in terms of market share -- combine for 23%.
The growth of these hyperscale cloud providers has, to some extent, been at the expense of smaller IaaS providers. Synergy's data shows what it calls a "very long tail" of small- and medium-sized cloud service vendors whose market share, collectively, has slipped to 18%.
And while that trend may continue, IT pros cite a number of reasons -- ranging from greater billing transparency to virtual server configuration options -- that prompt them to look beyond the Big Three.
Standing out from the competition
Perhaps the primary catalyst behind the hyperscale providers' rise to the top has been scale. AWS alone operates across 42 availability zones, each of which consists of at least one data center. And those availability zones span 16 geographical regions worldwide.
What's more, economies of scale have allowed companies like AWS and Azure to slash IaaS prices over the years -- another factor that can stifle competition.
Also, it's not only small or specialty IaaS providers that have struggled to level the playing field. IT giants such as Hewlett Packard Enterprise and Verizon have shuttered their public IaaS offerings in face of steep competition from AWS, Azure and Google.
"There used to be a lot of providers that have since kind of gone under or given up," said Dan Conde, an analyst at Enterprise Strategy Group, an IT research and consulting firm based in Milford, Mass.
There are, however, instances in which organizations don't gravitate to AWS or Azure as the de facto IaaS choice, said Cassandra Mooshian, senior analyst at Technology Business Research, an IT research organization headquarted in Hampton, N.H. First, in certain geographies, such as parts of Asia or Europe, the local vendor sometimes "trumps all," especially for small and midsize businesses or those with strict data compliance requirements, Mooshian said.
Capacity on Demand
Hyperscale is a term used to describe a computing environment that scales quickly and seamlessly as workload requirements change. The term is often associated with large cloud providers, which have seemingly unlimited capacity to expand as customer demands increase.
Even in the U.S., some organizations opt for a local or smaller-scale provider when they want more "personalized customer service and care" than they might get from a cloud giant like AWS, she said.
In other situations, an organization might prefer an IaaS provider with a specialized focus, such as a particular vertical market or workload type.
"As soon as you get into a specialty or some sort of niche, especially outside of just the infrastructure as a service market, there is definitely more room for more players, even if they're small," Mooshian said.
Simplicity, niche focus win over IT pros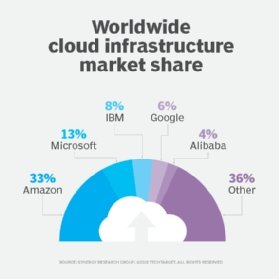 As of early 2017, AWS has five families of virtual server instances in its Elastic Compute Cloud (EC2) service -- including General Purpose, Compute Optimized and Accelerated Computing -- each of which has at least five individual instance types residing within it. While many cloud consumers welcome such choice, some see choosing among the vast variety of compute options as tedious.
Platform Purple, a digital-video distributor in Los Angeles, evaluated AWS as a back-end cloud infrastructure, along with other providers, including Google and Rackspace. The company, which has a team of about seven developers, ultimately chose IaaS provider DigitalOcean after finding the vendor's deployment options for its virtual servers -- known as droplets -- to be more "upfront and clear" compared with the other vendors, Platform Purple CEO Josh Mellicker said.
"There is a certain amount of cores, a certain amount of RAM, a certain amount of storage space and that's it," Mellicker said. If developers aren't completely sure how many cores an application needs, they spin up a droplet, run some tests and make a decision.
While it may not have the scale of a company like AWS or Azure -- DigitalOcean has 12 data centers across the world -- the provider's unique focus on the developer community has helped it stand out in the market, Conde said. The company's platform, for instance, includes prebuilt images for the Apache Cassandra database, Docker containers, the Node.js development environment and a number of other applications.
"Those [technologies] can be run on AWS, for example, by just spinning up a VM of your choice there and dropping that software inside. In that case, you are using Amazon as an infrastructure service and you are on your own to put up these frameworks," Conde said. "So you could go to a place like DigitalOcean, who would package that up so it's a little bit easier to deal with."
Another IaaS provider that specializes in a particular part of the market is Virtustream. The company's tailored support for SAP workloads was what prompted Sabre, a provider of global distribution systems to the travel industry based in Southlake, Texas, to choose Virtustream in 2015, said Steve Strout, senior vice president of strategy and operations at Sabre.
Sabre uses AWS to run its customer-facing applications, as well as its application development and QA environments, but chose Virtustream to host its internal SAP systems. The cloud provider, which was acquired by EMC in 2015, offers continuous monitoring for hosted SAP workloads. Virtustream, for instance, will track SAP system indexing, ensure queries perform well and monitor disk space -- all features that appealed to Sabre.
To run its SAP workloads on AWS with that same level of management and monitoring, Sabre would need to add 10 to 15 people to the IT staff, Strout said.
In addition to market segment or workload specialization, flexibility is another factor that has nudged some companies toward an IaaS provider outside the Big Three.
Ntiva, a managed cloud and IT services provider based in McLean, Va., works with AWS, Azure and Google, and resells those providers' cloud services. The company also offers its own managed cloud infrastructure service, called Altitude, and considered using AWS or Azure as the back end for that service, company founder and president Steven Freidkin said.
Ultimately, the company chose ProfitBricks, an IaaS provider specifically geared toward the IT channel. Ntiva white labels the ProfitBricks service and uses it as the basis for Altitude, which Ntiva customizes based on a client's needs. The company decided ProfitBricks better lent itself to that customization, versus using one of the pre-configured instance types in AWS or Azure, Freidkin said.
"We want to bill our [Altitude] customers simply for RAM, processor and disk space. We want it simple, and we want it clean," Freidkin said. "With Azure and AWS, we never could do that. We had to jump into different [instance] packages, like Package A, Package B or Package C, that had some preset configuration ... which made it impossible for us to really create the flexibility we wanted."
Transparency, Support Reign Supreme
Cost transparency is another reason some organizations might choose a smaller, or more niche, IaaS provider, said Cassandra Mooshian, senior analyst at Technology Business Research. AWS, for instance, has a significant cost advantage over many of its competitors, but some users still experience sticker shock upon reviewing their monthly bills.
"Sometimes, [AWS] is perceived as being the most cost-effective, [but] there are often times -- not necessarily hidden fees -- but people will get the bill and say, 'Whoa, this is a lot higher than we expected,'" Mooshian said.
Platform Purple CEO Josh Mellicker said his company had that experience during its evaluation phase, when it deployed an application, estimated its cost using the AWS cost calculator, and then received a bill that was higher than anticipated. "We missed, somewhere in the fine print, ... that something had some kind of minimum," he said.
Communication and support are also factors. Sabre vice president Steve Strout, for example, said his company periodically checks in with Virtustream, while AWS "feels more like a utility."
The two companies have very dissimilar cultures, he said. "It's palpable."
Looking ahead
Despite the value companies see in smaller or specialty IaaS cloud providers, it's likely that some of these providers will eventually need to evolve their business models to stay relevant -- especially those that don't already have a niche focus beyond just pure infrastructure.
For some, this may mean taking on more of a managed services role, Mooshian said. Rackspace, which now focuses a significant part of its business on managed AWS and Azure services, is an IaaS provider that has already made that shift.
"I think Rackspace is a good example of a smaller player in that market, and we've seen them pivot over the past year to really focus on the value-add services," she said.
Another possibility is that many of these specialty IaaS cloud providers -- again, especially those that successfully tailor their service for a particular application type, market segment, or other unique focus -- will become part of the vendor ecosystems of the hyperscale players. Looking at the online marketplaces of companies like AWS and Azure shows just how much these companies are "opening up to partnering" with a broad set of vendors, Mooshian said.
"Oftentimes, you see direct competitors both strategically partnering with the same company so that they have that capability," she said.
As for whether one of these smaller IaaS players could directly take on AWS, the chances seem slim today. But the cloud market still has a lot of growing to do, notes Enterprise Strategy's Conde.
"I don't think a niche player is going to come out of the blue and challenge Amazon," he said. "But it's still early days. It's certainly not the ninth inning."
Dig Deeper on Google and other public cloud providers