Storage and PaaS shine in cloud computing adoption spotlight
As cloud computing adoption proliferates, certain use cases, such as storage, stand out as clear winners for the enterprise.
Cloud computing adoption goes far beyond the choice of public, private or hybrid models. Enterprise IT pros and administrators also need to decide on the specific services each cloud model provides. And certain trends are starting to emerge with regards to how IT departments are utilizing cloud services. Storing data in the cloud, as well as SaaS and PaaS, are the clear winners so far.
Enterprises see potential in cloud storage
At one time or another all businesses have encountered storage capacity problems. Cloud-based storage has the clear benefit of elastic provisioning, allowing consumers to access additional storage space on demand. But costs of cloud data storage could turn any benefit on its head. Since corporations can expend major intellectual and financial capital to deploy and manage storage resources, it's hardly a surprise that storage has emerged as a major use for cloud services.
Slide 1.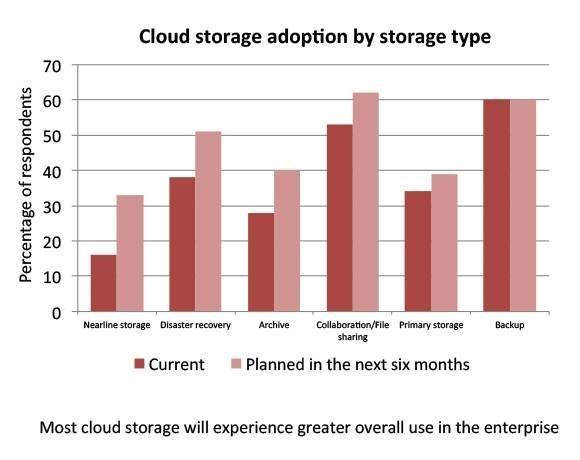 Data that changes regularly but is accessed infrequently is the first type of data that survey respondents are cloudsourcing (Slide 1), with top data types being nearline storage, disaster recovery (DR) data and archive data. Far less growth is expected in primary storage, which underscores the reluctance to rely on cloud providers for production data in real time where security and availability concerns exist. Backup data growth remains flat, which isn't surprising considering the broad acceptance of cloud services for backups.
Additionally, DR and backup data are perceived as two distinct items, with 69% of respondents reporting DR data is stored separately in the cloud from regular backup data.
Despite the emergence of cloud-based storage, survey results suggest even though respondents are using cloud-based DR services, 39% also ship data to another physical DR site and 33% still put DR data on tape. Even more alarming, only 46% of respondents say they can recover using cloud-based storage services, and just 28% have actually tested recovery.
Currently, most businesses use cloud storage to support less than 25% of available business workloads. The number of business applications housed in cloud storage is expected to increase dramatically in the next six months, reflecting reported increases in nearline and archive storage (Slides 2 and 3).
Slide 2.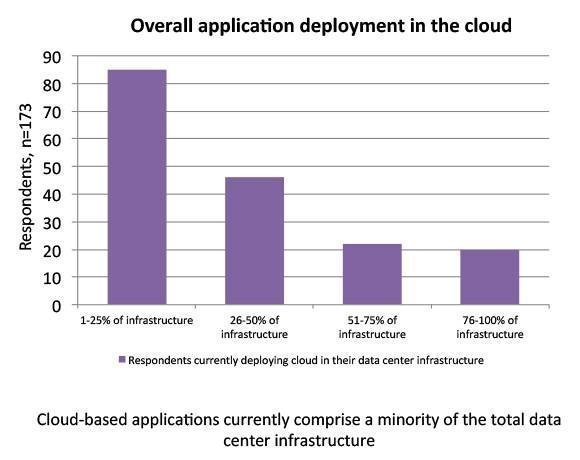 Slide 3.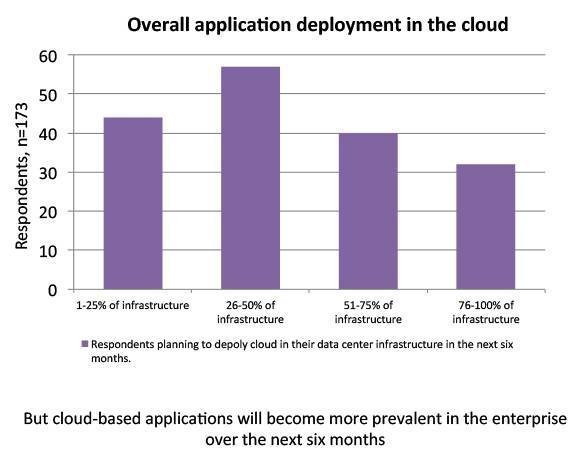 CRM, collaboration top SaaS uses
Software as a Service (SaaS) allows users to access business applications that third-party providers in the cloud own and support. Of respondents using SaaS apps, 59% use CRM/sales tools and 52% use collaboration tools. Numerous other SaaS apps are being used to a lesser degree, including business analytics tools, human resources (HR) applications, marketing tools, ERP systems and financial apps.
Enterprises are adopting SaaS for a variety of reasons. Approximately 23% of respondents cite SaaS enables faster app implementation times and 23% like the SaaS pricing model. Additional considerations include easy end-user app deployment, competitive features and functionality as well as the ability to reduce dependence on IT resources.
However, SaaS tools pose some challenges for business users. For example, more than 34% of respondents say SaaS applications can cause integration challenges with other cloud-based or on-premises apps. This echoes the concerns of application suitability and integration found in public cloud adoption.
The convenience and cost control the SaaS model creates allows clients to worry less about software development or acquisition, installation and ongoing maintenance. So while SaaS tools are generally confined to a small minority of business functions, survey respondents expect SaaS products to compose a larger percentage of enterprise applications in the next six months (Slides 4 and 5).
Slide 4.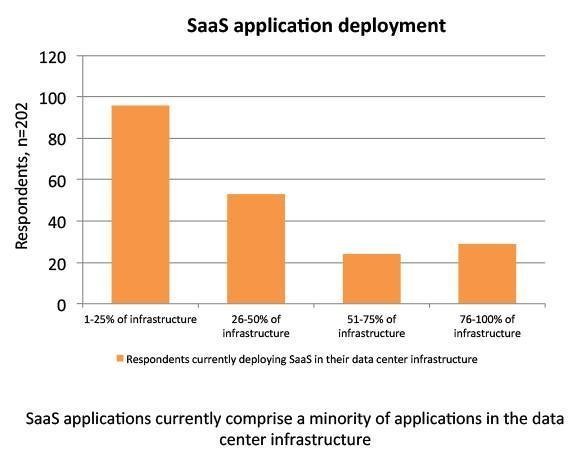 Slide 5.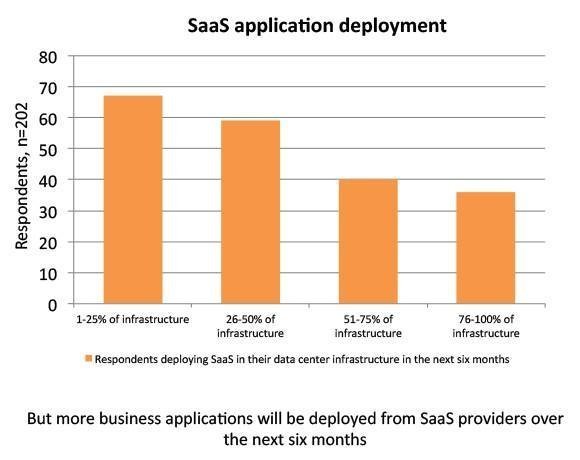 Money talks with PaaS respondents
Platform as a Service (PaaS) allows companies to upload and run business workloads from complete cloud service providers. More than 63% of survey respondents that report using cloud computing use PaaS to develop and deploy cloud-based applications. PaaS also plays a role in extending SaaS offerings, with 43% of these respondents using it to expand tools like SAP.
About 40% of respondents use PaaS to develop and deploy mobile applications, while 36% rely on PaaS for application testing. The four top PaaS providers are Amazon Beanstalk (32%), Google AppEngine (28%), Microsoft Windows Azure (26%) and Salesforce Force.com (21%), according to survey responses.
Why are companies building cloud-based applications from the ground-up using PaaS, which requires more in-house development know-how than other cloud models? There are several compelling reasons.
About 25% of respondents consider PaaS to be a cost-effective computing alternative to building and maintaining in-house IT resources; 20% use PaaS as a vehicle for more effective deployment of in-house IT resources; 16% expect better service scalability and 11% see PaaS as a shift from traditional systems administration to application development, or DevOps.
Choosing a PaaS provider is no easy task; it requires a modicum of familiarity with the vendor. About 49% of survey respondents said the chosen provider was already part of the company's current cloud ecosystem and 36% said the PaaS provider supported a current application development language.
PaaS provides significant flexibility for companies that update or change workloads frequently. Most current PaaS deployments are confined to a small minority of the business' IT infrastructure, though respondents expect PaaS deployments to compose a larger portion of enterprise infrastructure in the next six months (Slides 6 and 7).
Slide 6.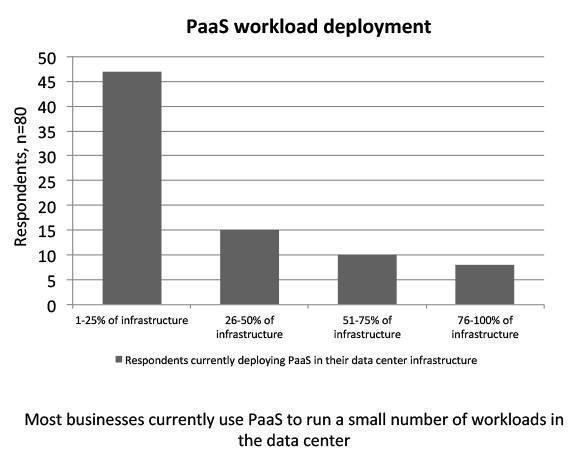 Slide 7.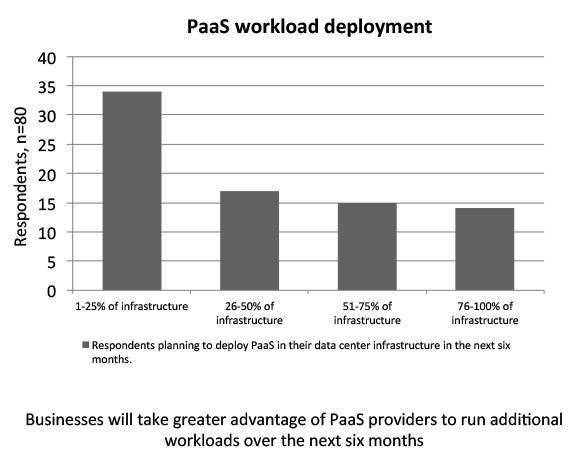 Cloud computing has made inroads into enterprise data centers, allowing organizations to mitigate some burden of hardware and support. The result is more scalable computing with predictable per-usage costs. But cloud computing service providers still have a long road to plow.
Many IT professionals are still satisfied with a more traditional data center infrastructure. Thirty-eight percent of respondents say their current IT investment is enough, 24% feel the benefits of cloud are inadequate and 18% feel virtualization offers enough of an advantage. Other issues, such as security and a fear of losing control of IT, also factor into the decision to hold off on cloud computing. Ultimately, the benefits will outweigh the problems, making prospects for future cloud adoption bright.
About the Author
Stephen J. Bigelow, senior technology editor in the Data Center and Virtualization Media Group at TechTarget Inc., has more than 20 years of technical writing experience in the PC and technology industry. He holds a bachelor of science in electrical engineering, along with CompTIA A+, Network+, Security+ and Server+ certifications and has written hundreds of articles and more than 15 feature books on computer troubleshooting, including Bigelow's PC Hardware Desk Reference and Bigelow's PC Hardware Annoyances.
Dig Deeper on PaaS and other cloud development platforms