The lifecycle of your enterprise cloud adoption strategy
Cloud adoption is more than choosing a technology; it requires planning for the future. This chapter looks at all steps of a cloud adoption strategy.
This excerpt from Chapter 3 of Is Your Company Ready for Cloud? Choosing the Best Cloud Adoption Strategy for Your Business, by Pamela Isom and Kerrie Holley, examines how an enterprise should strategically plan its cloud adoption, taking into consideration specific business goals, cloud standards, best practices and current and future use.
Core areas of focuses in this chapter, "The life cycle of your enterprise cloud adoption strategy," include:
Initial cloud planning
Enterprise capabilities and cloud vision
Target architecture and cloud enablers
Gap analysis and transition planning
Implementation planning
Governance
The significance of service-oriented architecture (SOA)
Cloud standards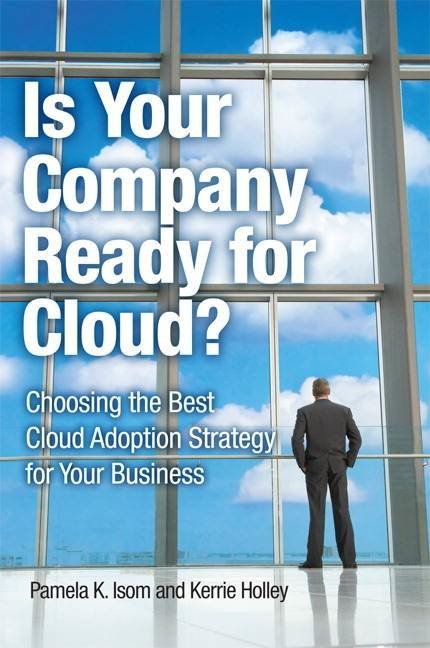 Enterprise capabilities and cloud vision
It is essential that you understand your enterprise goals and objectives. You need this information so that you establish a realistic cloud adoption strategy, and just as with enterprise architecture (EA) you want alignment between your enterprise vision and your strategic vision for cloud adoption so that activities and outcomes add value to your organization. Specifically, you want to understand your enterprise goals and objectives in the following areas:
New capabilities that the business needs to bring to the market in the next 12 months
Services or applications currently constrained due to time to market needs
Opportunities to preserve capital or avoidance of operating expense
Requirements or needs to provide ubiquitous access to consumers, customers, or devices
Needs for improved scalability
Factoring in your understanding of enterprise goals and needs into the formation of your cloud computing vision provides the business context to make cloud computing transformational for your business. That is, the business use of technology changes as technology related business risk is identified and managed; and IT queues get eliminated as a barrier for creating new business capabilities.
All of this requires you to plan for governing your cloud adoption strategy as it ensures appropriate development with proper controls for progression with business continuity, and upon execution governs implementations so that cloud projects are in alignment with your strategy. The introduction of any new technology or technology paradigm shift creates pressure on the organization. Previously, enterprise architecture may have evolved solely to address internal provided technology solutions, and now it extends to address unique aspects of cloud computing in improving agility, enabling new business models or simply preserving capital investments.

Questions such as the following must be answered during this phase of the life cycle:
Is your business and IT aligned? If not, can cloud computing facilitate this convergence between business and IT?
Do your applications and IT architecture support your changing market needs?
Is your IT environment inflexible?
How does your cloud adoption strategy support strategic imperatives -- that is, your company's vision?
How is your company performing today -- that is, what's not working that would make a difference in business performance?
Does cloud computing make your processes more effective and more efficient?
What cloud business adoption patterns are suitable for your company?
Who is accountable for making cloud adoption decisions?
What is your organizational readiness capacity for cloud adoption?
How will you ensure that your cloud adoption strategy is realized?
While you might have started preparation of your business case in the previous step, it is most likely that stakeholders require additional information to sustain initial approvals. In this second phase, you focus on understanding your overarching ability to undertake or extend business operations to support private, public, hybrid and community clouds.
Approaches for obtaining information include conducting visioning workshops and capability assessments. Pilots and/or proofs of concepts are optional, but highly recommended. Key activities in the enterprise capabilities and cloud vision include:
Develop your cloud decision model: Developing the cloud decision model is described in Chapter 4: "Identifying Cloud Candidates." This model provides the use cases for cloud adoption based on strategic goals of the business.
This model is essential to understand the future state made possible for your enterprise with cloud adoption. This decision model is grounded in the reality of what is possible coupled with the optimism of a future state.
Develop your cloud business case and ROI inputs: The business case and corresponding return on investment (ROI) model should look at a comprehensive cloud adoption versus ad hoc adoption. It's not easy to do ROI analysis as most companies use intuition or guesswork. You might also easily spend months or a year doing ROI analysis necessary for business case development. Using the following approach can help:
Create a benefit value tree where when selecting benefits (such as those described in Chapter 1: "Business Value of a Cloud Adoption Strategy") to distill the value drivers for cloud adoption such as capital preservation, increased time to market, new business opportunities, workforce transformation, accelerated time to market, and so on. Scenarios or use cases should be created for each value proposition.
Identify the applicable cost scenario for each use case.
Calculate the initial, simple return.
Assess and select the cost scenario for the second and subsequent implementations.
Keeping the benefits constant, calculate the returns for the second and subsequent implementations.
Assess your enterprise's cloud adoption maturity level: Understanding shortfalls between your target state, your cloud vision, and the current state is essential for successful planning and realization of your cloud adoption strategy. Using the traditional CMMI (capability maturity model integration) thinking, organizations can easily determine whether they are in the formative stages or optimized stages of cloud adoption maturity. Figure 3.2 depicts this model.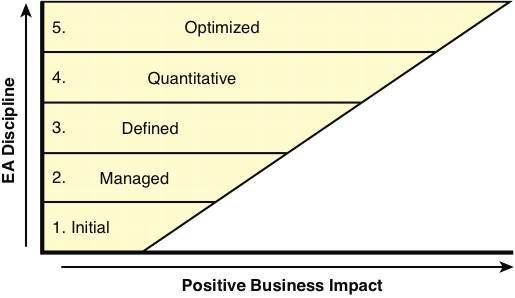 Figure 3.2
This determines what level of assistance is required to move faster or whether the current pace is sufficient. You should plan for improvements and incorporate this input into your roadmap as a natural outcome of this assessment.
Conduct vendor selections: A vendor selection process is necessary to select the partners and vendors for enablement of your cloud adoption strategy. A team should be assembled with a vested interest in the cloud selection process.
The first task that the vendor selection team needs to accomplish is to define, in writing, the service, capability, and features required from a partner. This gets further elaborated into a defined set of business and technical needs or requirements. Also, define the vendor requirements.
Finally, publish your document to the areas relevant to this vendor selection process and seek both internal stakeholders and vendor inputs. Now you are ready to select vendors.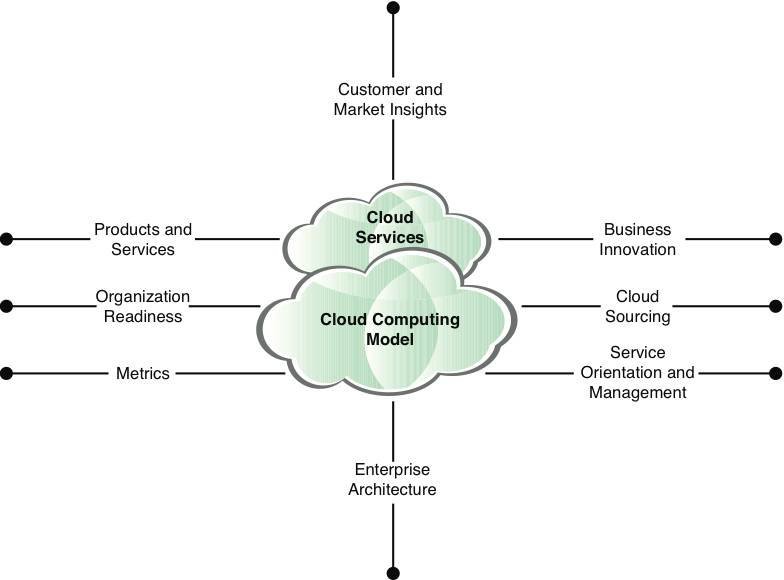 Figure 3.3
Determine areas to assess to fully understand your capabilities to succeed with cloud adoption: Figure 3.3 illustrates the cloud capability assessment areas. Customer and cloud market insights provide clarity on the art of what is possible and how other companies are both innovating and differentiating themselves with cloud computing.
Areas where business innovation can occur must be assessed and understood. Are your EA and/or SOA capability where it needs to be for the cloud adoption strategy to be successful? Assessing yourself in these areas provides a baseline for improvement and successful realization of your cloud adoption strategy.
Outline your enterprise cloud governance strategy: Governance will be mandatory for achieving the goals of your cloud adoption strategy. This includes defining roles and responsibilities for stakeholders essential to cloud adoption. Your EA governance processes should be utilized, as EA will be a critical success factor in accelerating cloud adoption. Your governance should include a governing body that can create and manage the following aspects of a cloud computing environment:
Policies
Procedures
Organizational effectiveness
Accountability and reporting
Communications
Standards adaptation
This excerpt is from the book, Is Your Company Ready for Cloud? Choosing the Best Cloud Adoption Strategy for Your Business, by Pamela Isom & Kerrie Holley, published by Pearson/IBM Press, July 2012, ISBN 0132599848. For more information, please visit the publisher site www.ibmpressbooks.com/title/0132599848
Dig Deeper on Infrastructure (IaaS) cloud deployment strategies