Todd Papaioannou: 2011 top cloud computing leader
Yahoo! uses its cloud infrastructure to power its consumer and advertiser systems, and the man behind that kind of IT advancement is top cloud leader Todd Papaioannou.
7. Dr. Todd Papaioannou, VP, Cloud Architecture, Yahoo! Inc.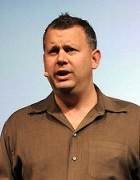 Dr. Papaioannou is vice president of cloud architecture for Yahoo!'s global cloud computing group. Yahoo uses its cloud computing infrastructure to power nearly all of its consumer and advertiser systems. A vocal critic and thought leader in the market, Papaioannou is pushing the cloud community to drive down the time it takes to spin up a virtual machine, as the current rate isn't fast enough for Yahoo. He says Yahoo needs to respond to traffic surges in seconds, not minutes or hours. Compare that to the three-to-six months it takes the rest of us to order a new server from Dell through our procurement department, and it's obvious how far ahead Papaioannou's team is.
Previously at No. 7, Marten Mickos, CEO of Eucalyptus
A year ago, Infrastructure as a Service software was new and Mickos, with an incredible track record at MySQL, seemed like the man to create this market. Since then, a million cloud platform software companies have launched and Eucalyptus is just another one of them.
Dig Deeper on Cloud architecture design and planning