Chris Hoff: 2010 top cloud computing leader
Chris Hoff, security guru and director of cloud and virtualization solutions at Cisco, comes in at number 10 on our top cloud computing leaders list.
10. Chris Hoff, Director, Cloud & Virtualization Solutions, Cisco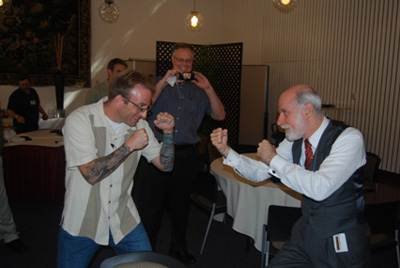 Shown here engaged in mortal combat with the father of the Internet, Hoff was an early responder to cloud technology and remains an accurate pinpointer of problems without pooh-poohing. A security maven, he is immensely popular due to his habit of mixing accurate analysis with goofy stuff like recording satirical rock songs.
Hoff has been instrumental in driving security and transparency as an issue. He was recently scooped up by Cisco and now balances running the networking giant's cloud strategy group, working on the CloudAudit project and updating his cloud and virtualization security blog.