NewServers: 2010 top cloud computing provider
Although NewServers didn't quite make our top 10 cloud providers list, the company does set itself apart by selling physical servers for cloud computing.
Honorable mention: NewServers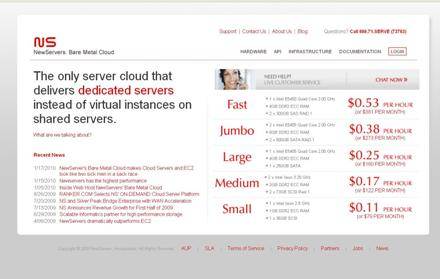 NewServers: A small concern by many standards, NewServers is unique in this list in that instead of virtual machines, you buy real ones. Sold and paid for just like EC2 or Rackspace Cloud servers (and at similar prices), physical, single servers are brought online by the minute.
It's a relief to those concerned with virtualization performance and security, but a head-scratcher for those who equate cloud with virtual computing. Never the less, five minutes and a credit card gets you a server, just like Amazon Web Services.
Dig Deeper on Azure, Google and other public cloud providers