Salesforce.com: 2010 top cloud computing provider
Salesforce.com's cheap CRM services and Force.com cloud development platform place the company among the best in our list of the top 10 cloud computing providers.
#3: Salesforce.com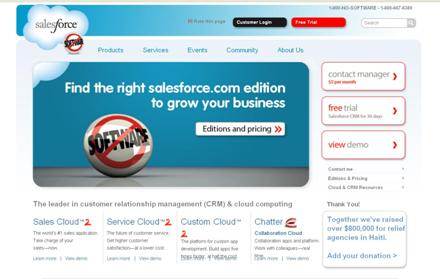 Salesforce.com: The Software as a Service giant was quick to see that a few tweaks to its business line would be enough to enjoy the unprecedented explosion of interest in cloud. As it steadily reduces subscription fees in favor of pay-as-you go, its customer relationship management (CRM) services are rapidly approaching bargain-basement cloud expectations.
For the gun-shy afraid to develop in the Wild West of Amazon Web Services or Rackspace, the company built Force.com and touts the proprietary development platform as a soup to nuts cloud service.