Eucalyptus: 2010 top cloud computing startup
With perhaps the leading cloud platform software out there, CEO Marten Mickos' open source Eucalyptus is a top cloud computing startup.
4. Eucalyptus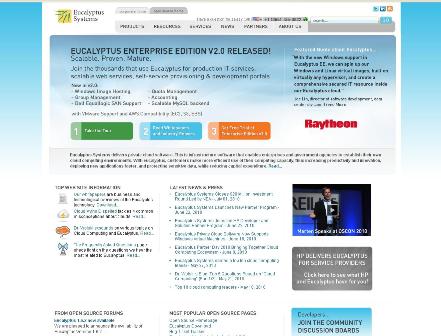 Eucalyptus, brainchild of Dr. Rich Wolski and UC Berkeley's MAYHEM labs, is possibly the leading cloud platform software right now, with big customers like Eli Lilly and Argonne National Laboratory experimenting with it. The for-profit open source firm also has Marten Mickos, renowned open source money maker, as CEO.

Its platform interfaces with a bevy of big names: Amazon Web Services, Ubuntu, and Red Hat Enterprise Linux. Eucalyptus Enterprise Edition 2.0 now supports Windows machines and allows customers to implement scalable, portable private clouds. The Eucalyptus Community Cloud is a sandbox experimenting environment, and Ubuntu Enterprise Cloud features Amazon EC2-like infrastructure capabilities inside your firewall.

Mickos just landed the company $20 million in funding, and while it's moving away from its open source roots with its Enterprise Edition, it clearly has an edge over the competing raft of cloud platform makers, especially among customers with big scientific computing needs. But Eucalyptus user NASA found the product wanting, and released OpenStack, a 100% FOSS project that might steal some of Eucalyptus' thunder. Eucalyptus has a comfortable $25 million to sort that out, from BV Capital, Benchmark and New Enterprise Associates.