GoodData: 2010 top cloud computing startup
GoodData, led by tech entrepreneur Roman Stanek, is a business intelligence Platform as a Service startup aimed at providing data analytics in the cloud.
5. GoodData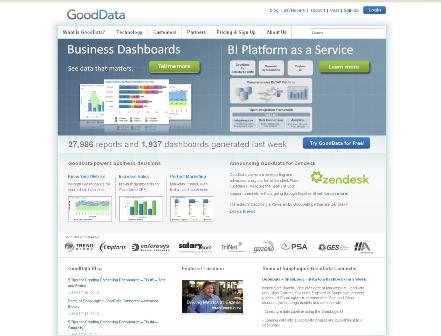 A business intelligence (BI) Platform as a Service (PaaS) offering, GoodData provides hosted data analytics tools, relieving this terrible resource hog from your internal infrastructure. Multi-dimensional analysis is very processor-intensive, and data sizes mushroom into the terabytes and beyond. For years, everyone has been forced to make tradeoffs between speed, power and cost when building analytics software. Because of this, most BI is prescriptive: pre-built dashboards answering pre-defined questions in pre-calculated OLAP analysis cubes.
GoodData takes a new approach. Running in the cloud, it is able to make ad-hoc analysis as fast and simple as prescriptive BI. That means new queries on new data sets are as easy as repeated queries on predicted data. Smart in-memory query processing and extensive results caching get over the performance hurdles.
It plugs in to Salesforce.com, Amazon Web Services and NetSuite, along with offering a free trial period. Customers include Enterasys Networks, TriNet, Gazelle, Black Duck Software, Salary.com, Sinu and MarketMatrix. There's some tough competition in this market, though, as IBM Cognos, SAP Business Objects, Pentaho, Jaspersoft, QlikTech, Birst and PivotLink all play in this space.
Take note of the company's founder: Roman Stanek has been a tech entrepreneur for almost 20 years. He was founder and CEO of NetBeans (acquired by Sun Microsystems) and Systinet (acquired by Mercury Interactive and later HP). GoodData received its last funding round of $5 million in 2009, and its investors include General Catalyst Partners, Andreessen Horowitz and O'Reilly AlphaTech Ventures.
Dig Deeper on PaaS and other cloud development platforms