Zuora: 2010 top cloud computing startup
Zuora, a cloud startup partly financed by Salesforce.com king Marc Benioff, has created a market out of subscription billing services in the cloud.
3. Zuora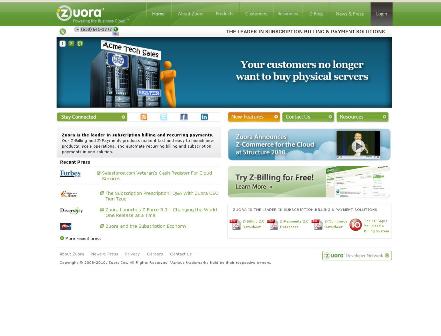 Zuora's subscription billing services cut right to the heart of the matter -- getting paid -- and the company has packed in some big customer wins since launching in 2008 (including the now-defunct Sun Microsystems).
Using Netflix as an example of the growth in subscription services, Zuora says the model will soon dominate the industry and that its products help customers build, manage and grow their own subscription businesses. Zuora's Z-branded products include Z-Billing, Z-Payments, the Salesforce.com-integrated Z-Force and Z-Commerce for media, a tool for publishers to test new products and collect revenue online.
Zuora is partnering with big names like NetSuite and Windows Azure, and it is partly financed by Marc Benioff, we guess just for the star power. The company has about $27.5 million in funding from Benchmark, Shasta Ventures, Lehman Brothers Venture Capital (renamed to Tenaya Capital) and Benioff.