VMforce speculation: Top 10 cloud stories of 2010
Speculation over Salesforce.com and VMware's new venture, which would eventually become VMforce, was one of the top 10 cloud computing stories of 2010.
9. Speculation mounts as VMforce details leak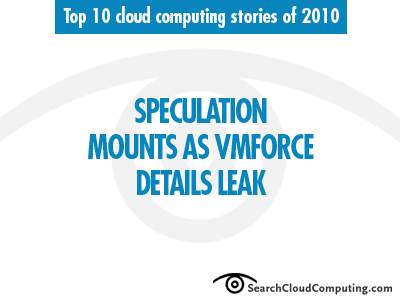 When Salesforce.com and VMware co-launched a website called VMforce.com, everyone in the cloud world raised an eyebrow. So it was no real surprise when, in April, the two companies announced a Platform as a Service (PaaS) aimed at Java developers that they named VMforce.
As reported by SearchCloudComputing.com, VMforce would be powered by VMware and tied into Salesforce.com's growing ecosystem of service providers. It was the precursor to a Google/VMware partnership in May; both of which being signs that VMware recognized the importance of the cloud market and its earliest key players.
Dig Deeper on PaaS and other cloud development platforms