Share this item with your network:
Lift and shift vs. re-platforming cloud apps

Luiz - Fotolia
When to adopt the lift-and-shift cloud migration model
The lift-and-shift approach is a common migration option, in which an enterprise moves in-house apps to the cloud without redesign. But is it right for you?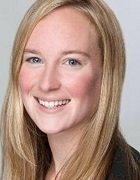 By
Organizations that migrate to the cloud do so to capitalize on benefits, such as scalability, agility and, most notably, cost efficiency. But cloud migrations can be laborious, as many in-house applications first require a redesign.
And while the goals are ultimately the same, there are multiple ways to prepare your applications for a cloud migration, including rearchitecture and the lift-and-shift approach.
It can be costly and time-consuming to rearchitect apps, so some organizations prefer the lift-and-shift approach, which enables them to take an on-prem app and move it to the cloud without modifying its design. However, because applications that are lifted and shifted to the cloud can't take full advantage of native cloud features, it's not always the most cost-efficient option.
That said, the lift-and-shift cloud migration model still has its time and place. For example, it's a good option for organizations that are bleeding costs from maintaining their own physical infrastructure, said Gregory Ness, former VP of worldwide marketing at CloudVelox, a cloud migration platform vendor based in Santa Clara, Calif.
"If your investment in a data center is costing you today twice as much as the cloud, why wait?" Ness said. Some CloudVelox customers would lift and shift an application to reduce on-premises infrastructure costs in the short term and then rearchitect the app after it's in the cloud, he said.
The lift-and-shift cloud migration model is also a solid choice for disaster recovery, said Jonathan Feldman, CIO for the city of Asheville, N.C.
"If you have apps that just need to keep going, rip and lift can be very good for that," Feldman said. "And that's why we're using it for disaster recovery of systems that are just not going to get rearchitected right now."
Lift and shift isn't right for all apps
To decide which applications to lift and shift or rearchitect for the cloud, there are a few criteria to consider. For example, resource-intensive applications, such as those used for big data analysis and image rendering, are better to rearchitect, said David Linthicum, former senior vice president at Cloud Technology Partners, a Boston-based consulting firm.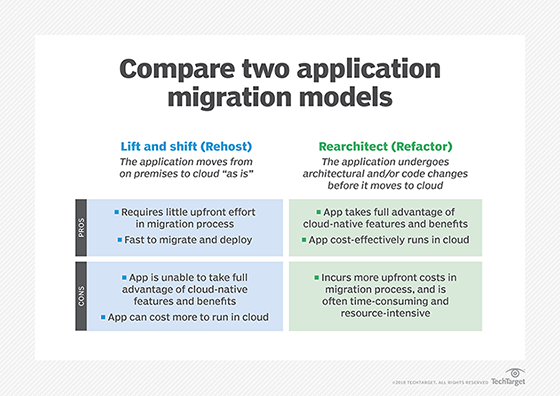 "You are going to find that [these apps] are almost always going to generate an unusually high cloud bill, so therefore, redesign is in order to utilize those resources better," he said.
These resource-intensive apps can also suffer from performance and latency issues if they aren't rearchitected first, said Alex Witherspoon, former director of platform engineering at FlightStats, a Portland, Ore.-based company providing global flight data. "Every [application] dependency, especially over the network -- the multiplying effect of having that latency can really be a problem."
You are going to find that [resource-intensive apps] are almost always going to generate an unusually high cloud bill, so therefore, redesign is in order.

David Linthicum
Applications that lend themselves to the lift-and-shift cloud migration model have "very easily defined patterns," such as those for risk analytics, Linthicum said.
Meanwhile, enterprises must adopt a lift-and-shift approach for commercial or off-the-shelf applications, simply because they can't rearchitect that software, said Robert Green, former principal consultant at Enfinitum Inc., a San Antonio-based consulting firm. That capability, instead, lies only with the application vendor itself.
"You are really limited to what the ISV [independent software vendor] has done with regards to defining the architecture of their application," Green said.
Organizations should strive to embrace a DevOps or Agile software development model to reduce the burden -- and price tag -- of rearchitecting, Green said. Because Agile development environments increase the speed at which organizations develop and modify their applications, they can also boost a business's revenue -- sometimes, by as much as 30 percent, he said.
"You have a net gain," Green said. "And that will help you justify the refactoring costs."
Dig Deeper on Cloud application migration