Evaluate
Weigh the pros and cons of technologies, products and projects you are considering.
Winner: Best cloud management software product
The winner of the best cloud management software product category in the Impact Awards is the third-party provider deemed to have the best overall offering.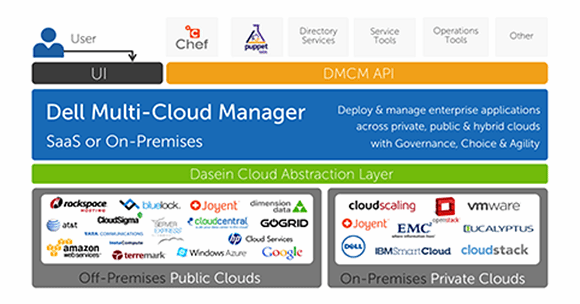 Best cloud management software product winner: Dell Cloud Manager
As cloud services mature, improved performance, lower costs and fewer outages are enticing enterprises to the cloud. However, not all cloud providers offer exactly what your enterprise needs when it comes to building, monitoring and managing a private cloud infrastructure or hybrid cloud deployment. To fill that void, many IT pros turn to third-party cloud management software.
And voters in the Modern Infrastructure Impact Awards chose Dell Cloud Manager for its feature set and security management capabilities. Dell Cloud Manager -- formerly both Dell Multi-Cloud Manager andEnstratius -- allows enterprises to deploy, automate and manage applications on a multitude of public, private and hybrid clouds.
"It's the only product I found that works across multiple public clouds and supports multiple features of Amazon Web Services," said one voter.
Another reader lauded the software for its flexibility and ease of use, while another noted that it works with open source environments such as OpenStack and Linux clouds.
In fact, Dell Cloud Manager supports a wide range of public and private cloud platforms, including AWS, Dell, Joyent Cloud, OpenStack, VMware and Windows Azure, among many others.
Cloud management software product honorable mention: Egenera Cloud Suite
Egenera Cloud Suite was runner-up in the Best Cloud Management Software category for its ease of use and support for physical as well as virtual environments.
"We like its ease of use and integration into EC2 for hybrid cloud solutions," noted one reader. "It has the ability to offer physical and virtual resources in the service catalog."
Other readers noted that Egenera offers a drag-and-drop interface as well as an "excellent source of controls."
Finally, one reader found its chargeback capabilities most useful, noting, "It includes an integrated chargeback system that allows me to know exactly what my environment is going to cost. And now it gives me the ability to provision out to the public cloud."
In addition to interoperability with various cloud service providers, enterprise IT is also concerned with data security in the cloud. Dell Cloud Manager helps overcome this obstacle by enabling enterprise-wide governance for cloud-based applications -- giving IT pros the ability to control systems through encryption, user authentication and budget management. The tool also includes several automation tools for provisioning, autoscaling, backup and recovery.
"It's just the best tool out there for us," summed up one voter.
Best cloud management software finalists
Dell Cloud Manager won out over these other cloud management products:
2W Insight