News
Stay informed about the latest enterprise technology news and product updates.
VMware vCloud Director: Ready for launch
VMware has launched vCloud Director, its oft-discussed cloud computing offering. In this three-part series, our expert examines every available inch of the new service.
TABLE OF CONTENTS
•VMware vCloud Director: Ready for launch
•Software and licensing requirements for vCloud Director
•Setting up VMware vCloud Director

---
After much speculation and several name changes, VMware has finally launched its vCloud Director (vCD), also known as Project Redwood. There's been a lot of talk surrounding the product, partially because access to the beta program was so exclusive. On August 23, myself and a handful of vExperts were given access to the presentation material that delegates were treated to this morning.
For me, one of the big bits of news came at the end when VMware told us it had managed to secure a partnership with telecom giant Verizon. Verizon will be joining the vCloud Service Provider Program (vSPP) as part of the vCloud Data Center section with a view to launching a beta service by Q4 of 2010.
It's a topsy-turvy world!

Mike Laverick
I think the addition of Verizon to the vSPP is huge. They are a major player and, to date, I was only aware of AT&T's work on the vCloud application programming interface (API) and vCD. It's been a long-time analogy to compare cloud computing to services like the telephone network, and now we have a telecom provider providing the cloud. It's a topsy-turvy world!
There are four components to the vSPP -- vCloud Data Center, Express, Infrastructure and VMware-virtualized. The model that VMware will be flagging will be the vCloud Data Center model (last year it was vCloud Express). It is seen as a hybrid cloud offering for the enterprise that will allow for the movement of virtual machine (VM) workloads from a private vCD implementation to a public one. There doesn't appear to be an engine to do this -- I wouldn't be surprised if vMotion plays a part -- but it's more likely that VMware will want to roll in VMware Site Recovery Manager and rehash it as a Site Manager tool. Then it would become not just a disaster recovery tool but a tool to manage the relocation of VMs from one site to another, or rather, one cloud to another.
vCloud Director explained
Below is a diagram that might help you get a handle on where vCloud Director sits within the vSphere platform: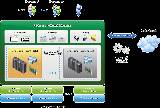 Click for the full-sized image
Essentially, the vCloud Director introduces a layer of abstraction -- or, if you like, another layer of virtualization -- between the consumers of VMs and the underlying platform of vSphere. The end user should be able to login and create new VMs from an existing library of individual VMs, or vApps, depending on their requirements. A vCloud Director user shouldn't see the complexity of ESX hosts, vSwitches, resource pools and clusters. It's a Web service that has a database back-end to hold the configuration of the vCloud Director. Within the director itself, a whole new series of objects can be created, including network pools and VMware vCloud Network Isolation (VCDNI) objects.
vCD interacts and integrates with vCenter Chargeback, which is essential if you want to introduce a billing process into the system. This is clearly of interest to vCloud providers, but also to large enterprises that use the utility model -- where the business unit consumes CPU, RAM, disk and network based on the actual usage; IT sold as a service internally.
The other big part of the architecture is integration with vShield Manager. In case you don't know, vShield is a networking system that can introduce great functionality to vSphere beyond the use of vSwitches. It can carry out network edge security, port forwarding, IP masquerading, and Dynamic Host Configuration Protocol functionality. The use of vShield allows VMware to offer a secured multi-tenancy model where more than a business or a unit of the business can use the same physical hardware while also being reassured that their data is not exposed to others on the system.
vCD's role in the VMware (and cloud) world
Look at the vSphere platform as an upscale apartment duplex. Different folks have to all reside in the same space without affecting, or degrading, the experience of the other residents. The job of vCD is to be the senior management team of the entire facility, shielding its residents from the day-to-day operational issues that naturally come up. vShield is "free" but does require a license key during the configuration, and VMware will allow customers to upgrade to a "premium" version which supports VPN and load-balancing functionality.
I don't want to get into the details of cloud, or what the possible usage cases or terms are, in this article. I want to remain focused on the technology, introduce some key terms and concepts, and talk about some of the requirements and gotchas that may exist if you choose to adopt it. With that said, you should view vCloud Director as Infrastructure as a Service (IaaS), and once you have a platform, the next thing would be to be build services on top of it. Whether this model is a good idea and will deliver on its promises is another article altogether. But if you would like some examples, you could use a private cloud to provide resources for one-off projects or seasonal workloads, such as the end of the tax year or end-of-quarter reports.
This has been part one of a three-part series on VMware vCloud Director. Part two covers the software and licensing requirements, and part three covers the setup process.
ABOUT THE AUTHOR:
Mike Laverick is a professional instructor with 15 years of experience in technologies such as Novell, Windows and Citrix. He has also been involved with the VMware community since 2003. Laverick is a VMware forum moderator and member of the London VMware User Group Steering Committee. In addition to teaching, Laverick is the owner and author of the virtualization website and blog RTFM Education, where he publishes free guides and utilities aimed at VMware ESX/VirtualCenter users. In 2009, Laverick received the VMware vExpert award and helped found the Irish and Scottish user groups. Laverick has had books published on VMware Virtual Infrastructure 3, VMware vSphere4 and VMware Site Recovery Manager.