News
Stay informed about the latest enterprise technology news and product updates.
Citrix pitches cloud credentials to IT faithful
Citrix is ready to claim serious cloud credentials, and it will not be ignored. This camel's nose has pushed its way into the tent through XenDesktop and shows no signs of stopping.
Among IT managers, Citrix has always been synonymous with desktops. They know, and love, the company for its widely used thin client software, XenDesktop. But Citrix wants to convince customers that its portfolio is more than just desktops; that it has what it takes to be their cloud provider, too.
It is a critical period for [cloud hosting] vendors who need to lay their foundations for the future.

Lydia Leong, Gartner analyst
At its upcoming annual Synergy conference in San Francisco, the company is expected to tout its multi-faceted cloud strategy that includes cloud hosting, enterprise infrastructure technologies and Software as a Service.
Behind the scenes, Citrix has tried to build momentum for its cloud hosting strategy, and it has at least one string in its bow here. Amazon Web Services (AWS), the world's largest public cloud, runs on Xen, the open source hypervisor technology shepherded by Citrix. Citrix would love a marquee name in its cloud camp; unfortunately, Amazon is positively secret about its cloud operations.
Citrix has been working to persuade Amazon to switch to XenServer, the commercial-but-free, version of its hypervisor, according to those familiar with the company's activities. It wouldn't be the first cloud provider to make the switch. Rackspace moved from Xen to XenServer in May 2010 to receive the kind of professional support that comes from using commercial software.
"They [AWS and Citrix] have come to some kind of understanding that new systems coming online will be on the XenServer code base," said one Citrix reseller who preferred to remain anonymous. At Synergy next week, he said he expects Citrix to disclose details about its ability to move virtual machines seamlessly between XenServer private clouds and Amazon.
Citrix vs. VMware in the cloud
If true, it would be a coup for Citrix in its battle with VMware for the cloud hosting market. Citrix struggles for momentum like all cloud infrastructure platform providers, according to James Staten, principal analyst at Forrester Research.
"Citrix OpenCloud is lagging, but VMware is not necessarily winning," Staten said.
All service providers feel they have to offer VMware but want a Xen or KVM-based offering, as it's significantly cheaper for them.
"You can get OpenCloud without paying Citrix a dime," Staten said. "And they are a tenth to a third VMware's costs for professional support."
XenServer is a core element of Citrix's OpenCloud stack that competes with VMware vCloud Director, CA, BMC, Red Hat and Qwest Software. It also competes with a host of pure-play cloud products from Eucalyptus, Cloud.com, Abiquo and Nimbula and others in the fiercely competitive market for Infrastructure as a Service. The core functions of these products include data center self-service, standardization, automation, and pay-per-use.
Cloud hosting (both internally and externally) is a rapidly evolving market that represents the transformation of IT infrastructure over the next 10 to 20 years. The next five years, however, represent a significant revenue opportunity for whoever gets there first, according to Lydia Leong, an analyst at Gartner.
"It is a critical period for vendors who need to lay their foundations for the future," Leong said.
And that's exactly what Citrix is attempting to do. It has signed up a handful of service providers to OpenCloud, including Softlayer, Carpathia Hosting, Korea Telecom, LocalWeb in Brazil, NTT Europe, Navisite, and SingTel in Singapore; and even fewer enterprises. Zynga, Bioware and TomTom are on the list. No big service providers or enterprise IT shops yet though, just the elusive Amazon.
Simon Crosby, CTO of the data center and cloud group at Citrix, dismissed the idea of a closer arrangement between Amazon and his company.
"There's a lot of work going on around Windows … but complete portability between Xen and XenServer already exists," he said.
Cloud infrastructure not Citrix's forte
Most of Citrix's revenue comes from virtual desktops, of which it owns the lion's share of the market. There have been many versions (and names) of its flagship product, once called Presentation Server, a Windows-centric terminal services product. The technology is now called XenDesktop, and it is a Swiss Army Knife desktop virtualization tool that enables any PC, Mac, smartphone, tablet or thin client to access corporate applications and desktops remotely.
Even though the virtual desktop market is growing -- Citrix more than doubled XenDesktop license revenue to $43 million in the past quarter -- the technology in general remains expensive and technically challenging to install. This has held back widespread deployment.
So Citrix needs more irons in the fire to spark growth. The Online Services Group, which includes the GoTo services family and the Data Center and Cloud Group, are its best bet. The latter accounted for $78 million in revenue in the first quarter of 2011, or about 16% of Citrix's total business. It has hovered at that mark for the past three quarters.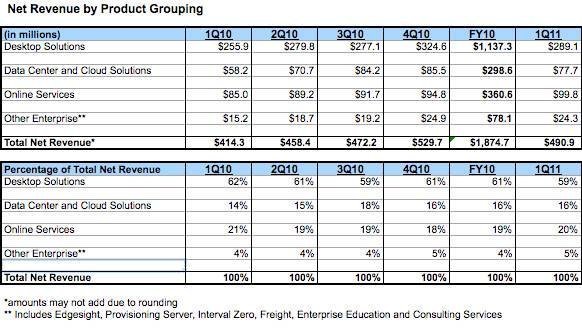 Tucked inside this group is a product that could turn out to be a Trojan horse in Citrix's strategy to win Infrastructure as a Service business with both hosting companies and enterprises.
Citrix OpenCloud is lagging, but VMware is not necessarily winning.

James Staten, principal analyst at Forrester Research
The NetScaler network caching appliance and Branch Repeater WAN optimization devices are big sellers, according to Citrix resellers. Carriers and service providers are buying NetScaler to improve network performance in areas where bandwidth is limited.
The latest version of NetScaler is a sealed, virtualized appliance called NetScaler SDX, released earlier this month. It comes with the XenServer hypervisor inside and can be partitioned by carriers and service providers to create individual accelerators for separate cloud customers. One of the key barriers to cloud adoption is multi-tenancy and security of data. Enterprise customers don't want to commingle their data with that of their competitors. Products like NetScaler let service providers guarantee isolation, which could be an important feature in coaxing enterprises on to the cloud.
Between its GoToMeeting software and desktops delivered any which way you want them, Citrix has some important technical and operational experience delivering services. And it's plugging together the networking and software components of Infrastructure as a Service, under OpenCloud, to sell to carriers and IT departments rolling their own clouds. All it needs now is a major customer (Amazon, hello!) to step up and endorse its strategy.
Jo Maitland is the Senior Executive Editor of SearchCloudComputing.com. Contact her at jmaitland@techtarget.com.