News
Stay informed about the latest enterprise technology news and product updates.
IBM reveals its plans for software-defined environments
IBM's cloud VP discusses Nirvanix and Cloud Foundry partnerships, as well as IBM's roadmap plans for software-defined environments.
IBM's cloud strategy relies on open standards and a number of partnerships with companies whose cloud computing visions align with theirs.
SearchCloudComputing talked to Dennis Quan, IBM's VP of SmartCloud Enterprise, about its plans for software-defined environments and transitioning off Nirvanix storage. He also shed some light on what exactly BlueMix is.
What will happen with customers that bought Nirvanix storage through IBM's partnership?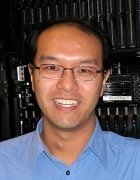 Dennis Quan: We have an OpenStack, Swift-based capability on SoftLayer, and we are helping customers to do transitions as needed. In light of these reports that Nirvanix has decided to cease operations, we are helping our clients to move off of that object storage offering from Nirvanix and onto other solutions.
How will the partnership with Pivotal for Cloud Foundry development play into IBM's strategy going forward?
Quan: We strongly believe in open standards and the importance of open standards to the growth of cloud. So if you look at the stack, you've got Linux, KVM [Kernel-based Virtual Machine]; you've got these open source, open standards-based implementations that provide the basic hypervisor and operating system functions. Above that, you've got the OpenStack capability we announced last year ... [and] above that is the Cloud Foundry announcement with Pivotal.
We are going to be partnering with them to create an open platform for building the next generation of applications -- mobile applications, social applications, analytics workloads -- and being able to provide the services those applications need in terms of being able to scale and support a growing population of mobile users. … All of these things are connected -- just as OpenStack runs on Linux and KVM, Cloud Foundry is going to be leveraging the OpenStack capability lower in the stack.
What's the advantage of going to Cloud Foundry through IBM rather than through Pivotal or directly?
Quan: There [are] going to be a number of developments that will come out of our Cloud Foundry capability in the coming months. We've already announced a preview of this, called BlueMix. There's already some preview work that's available to expose our customer base to our work on Cloud Foundry.
There [are] going to be a number of developments that will come out of our Cloud Foundry capability in the coming months.

Dennis QuanVP of SmartCloud Infrastructure, IBM
Can you tell me a little bit more about BlueMix? It's a little confusing what exactly it is.
Quan: First, it's a preview of that stack that I mentioned a moment ago -- being able to combine the OpenStack capability and Cloud Foundry. Second, it's giving a preview of a new development model. … Using BlueMix, a customer is able to get a Web-based platform for integrating multiple cloud-based components together in a very efficient fashion that allows them to iterate on those applications, publish them, have them automatically scale on the Web.
Is IBM observing any other broad cloud trends that the industry may be overlooking?
Quan: The industry has started to pick up on some of the parts of software-defined environments, so you see a lot of activity in software-defined networking. For us, a software-defined environment doesn't just mean the customers are going to want to run their applications on clouds, but that the cloud itself needs to do more than just virtualize the compute.
It needs to reconfigure itself dynamically to meet the needs of workloads that will be running on these clouds in larger and larger volumes. … You want the ability to have your single unified infrastructure supporting multiple of these workloads running at once, and you need to be able to have those workloads share those capabilities without getting in each other's way.
So a good example of this is: You've got applications that might be mission-critical, customer-facing, doing credit card transaction processing around the holiday season. You want a software-defined environment that can automatically reallocate resources based on the relative priorities of different workloads running on that environment, and not just allocate more resources, but perhaps select from multiple storage options or reconfigure network routes in response to dynamic monitoring that discovers where bottlenecks are in applications as they're running. It's a more dynamic version of cloud than you see today, and it's certainly more than software-defined networking.
What offerings does IBM actually have in software-defined environments already?
Quan: In that space there's some software-defined networking capabilities coming out. We also have a fairly large portfolio in storage around Flash and the ability to dynamically reallocate these things. The workload optimization capabilities are things that at present come from the Platform Computing acquisition we made a few years ago and their ability to manage extremely large compute clouds and be able to do some of this dynamic reallocation. A lot of those capabilities are being leveraged in the early customer work that we're doing in this space.
Beyond that, it's things that come out of our research labs. They'll be building on all those products I just mentioned and extending OpenStack to add these capabilities.
Quan details just how IBM will integrate its latest IaaS acquisition, SoftLayer, into the fold in part one of SearchCloudComputing's Q&A.
Beth Pariseau is senior news writer for SearchCloudComputing.com. Write to her at bpariseau@techtarget.com or follow @PariseauTT on Twitter.