Mathias Rosenthal - Fotolia
News
Stay informed about the latest enterprise technology news and product updates.
Dell hybrid push extends to a familiar partner
Hybrid clouds remain more of a goal than a reality for most IT shops, so two of the biggest legacy IT vendors have teamed up to ease hybrid cloud strategies.
Dell turned to long-time partner Microsoft to make its biggest push yet into hybrid cloud for companies that want a lower barrier to manage multiple environments. But many IT pros still see hybrid as more of a goal than a reality.
The new Dell Hybrid Cloud System for Microsoft is a scaled-down version of Microsoft Cloud Platform System Premium, tailored around simplicity for building private clouds and connecting with Microsoft Azure. There also are new pricing options to reduce the barrier of entry for cloud services across multiple environments.
Vendors across the industry are looking for ways to make it less difficult to move to the cloud, whether it's public, private or hybrid, said Christopher Wilder, analyst for Moor Insights and Strategy in Austin, Texas. This move by Dell is another step to ease that transition for users.
"They've really done a good job of addressing a lot of the complexity issues, [and] the risk and control issues, and the last thing they've really been focused in on is the cost," Wilder said.
They've really done a good job of addressing a lot of the complexity issues, [and] the risk and control issues, and the last thing they've really been focused in on is the cost.

Christopher Wilderanalyst for Moor Insights and Strategy
Migrating to cloud typically requires integrators, but if a company has a low entry point, it's hard to get them to work with you, Wilder said. That's where the flexible pricing, single point of contact and service-level agreement can be beneficial to lure in smaller customers or those who are just starting out.
The service is based on the new Microsoft Cloud Platform Standard, which is a combination of Dell hardware and Microsoft software. It allows customers to deploy private clouds compatible with Azure public cloud access in three hours, and manage public and private cloud resources across Windows Azure Pack. It also minimizes downtime with unified system updates, and provides customers with the ability to build and provision templates, as well as deploy governance models with Dell Cloud Manager, Dell said.
The service also includes a payment model, called Dell Cloud FlexPay, which builds on the other leasing options Dell rolled out in August. Customers can start using the service starting at $9,000 a month for the first six months before deciding to extend the evaluation period, return it, continue to lease or take ownership of the environment.
Microsoft and Dell, together again
Though Microsoft doesn't publicly say which hardware vendors it uses for Azure, there are indications Dell is one of its primary suppliers, and this deal serves as an extension of a long history of working together, said Charles King, principal analyst of his IT research firm, Pund-IT, Inc.
"In a way, this new solution takes the lessons they've learned in working together on a much larger scale and puts the tools for hybrid cloud deployment in a box that can be deployed very quickly," King said.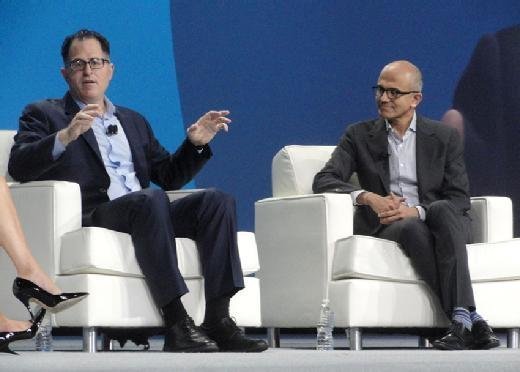 There is growing evidence that there are some data and applications that customers are not willing to trust in public cloud environments, King said. He pointed to last week's declaration by GE that it was moving the majority of its workloads to Amazon Web Services as part of Amazon's annual re:Invent conference. The pronouncement was framed as a win for Amazon, but it's also telling that GE said it intends to keep some of its core intellectual property in its own data centers.
"GE is a very big example of that, but that type of behavior runs up and down businesses of every size, and industries of every kind," King said.
Deploying hybrid environments is especially difficult for small- to medium-sized businesses due to a lack of expertise, so what amounts to a "plug it in, connect it to the Internet appliance makes a lot of sense," King said.
The news comes less than a week after Dell disclosed plans to acquire EMC and its federation of companies. VMware, which has made its own significant push around hybrid cloud, was declared the "crown jewel" of the deal, and Dell executives have said they won't interfere with its operations.
But there's not too much crossover between what Dell and VMware are trying to do around hybrid cloud, said Patrick Moorhead, principal analyst at Moor Insights and Strategy. VMware's products are slightly more complex and geared toward its existing customer base, while Dell is offering a full-stack, turnkey service, where the customers can start metering billing by department within a day.
"There are different customers looking for different levels of sophistication and complexity," Moorhead said. "To me, these are the people who are buying the iPhones from a complexity standpoint, rather than the people who buy Android [phones], and want to root around the system and put in a new bootloader."
Are we hybrid yet?
Dell sees a big market for companies that believe in hybrid cloud, but don't know how to get there. Still, it's unclear if this platform meets that need or if companies are ready to make that leap.
The IT environment at Commercial Metals Co., in Irving, Texas, is mostly on premises, but it has some limited use of Azure, said Srinath Rajagopalan, manager, server and storage engineering at Commercial Metals.
"The hybrid cloud is the way to go in the long term -- it won't be pure public or pure private, so this definitely gives more opportunities," Rajagopalan said.
The company will continue to explore some more opportunities around hybrid, and the new Dell Cloud Manager and Azure partnership may be used at some point, he added.
"It might simplify things, especially from a platform and ecosystem perspective, but we will have to see how it all turns out," Rajagopalan.
Merit Energy Co. in Dallas is slowly moving to cloud, but the company has a good data center and is more focused on Capex; so concerns about the Opex nature of cloud, along with security, hold the transition back, said Michael Edwards, systems engineer at Merit Energy.
"For brand new companies, cloud makes sense," Edwards said. "But older companies with legacy applications or applications that are not geared for the cloud, it might not make sense right now."
There are certainly synergies between the two companies and the idea of hybrid is a wonderful aspiration around seamless integration, but the requirements that come with a transition to hybrid environments is still too much of a challenge for many enterprises, said Eric Hanselman, chief analyst at 451 Research, LLC, in New York.
"The early stage pieces are certainly good, with Dell Cloud Manager and workload flexibility," Hanselman said. "The longer-term question is when do we get to a point when a typical enterprise can take advantage of this because of enterprises' own limitations in moving to hybrid?"
TechTarget news writer Robert Gates contributed to this report.
Trevor Jones is a news writer with TechTarget's data center and virtualization media group. Contact him at [email protected]
Dig Deeper on Managing cloud infrastructure