jules - Fotolia
Cloud storage adoption strong despite lock-in concerns
Despite lingering concerns around compliance and lock-in, IT pros are deploying cloud storage services for a range of applications and use cases.
While compliance and lock-in concerns still deter some organizations from storing their data in the cloud, other enterprise IT shops are moving full speed ahead with cloud storage adoption.
Half of IT and business professionals said they use the cloud as their primary form of storage for production data, according to a 2015 TechTarget Cloud Storage Survey (Figure 1). And although production data can encompass a wide variety of data types and applications, that number still speaks to the growing use of cloud for enterprise data storage, said Ashish Nadkarni, a program director at IDC, an IT analyst firm in Framingham, Mass.
"People do, in fact, feel more comfortable today with cloud storage than they did a few years ago, and they are figuring out ways in which they can bridge their on-premises data center with the cloud," Nadkarni said.
There are several factors driving enterprises toward cloud storage services. The first, Nadkarni said, are the benefits organizations realize from such a move. In addition to offering a flexible, pay-as-you-go pricing model, cloud services simplify the IT planning and budgeting process for storage.
"The biggest advantage, I think, is that you don't have to plan your budget, [or] plan your growth and procure equipment ahead of time," Nadkarni said.
For example, if an organization knows it needs 10 TB of storage for the span of a year, it would traditionally need to acquire that storage at the start of the IT budget cycle, or risk losing that money. What's more, when organizations acquire a fixed amount of on-premises storage, they risk running out of storage space if certain applications grow faster than expected.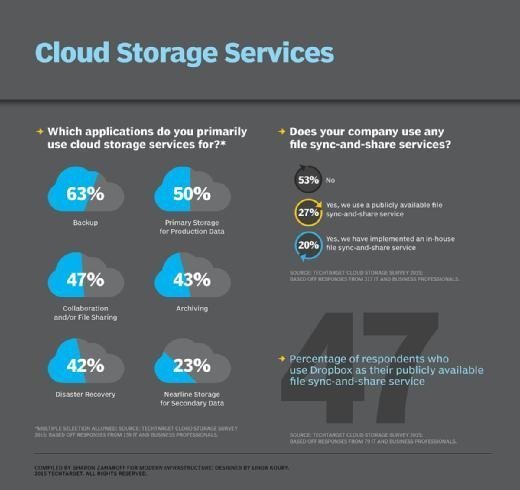 But with cloud, those concerns are no more.
"You can become a little more relaxed about procuring storage as you go," Nadkarni said.
Indeed, more and more organizations are starting to embrace, or at least warm up to, the idea of storing their business data in the cloud, according to Rich Nowalk, COO at Opex Technologies, a cloud advisory firm based in Raleigh, N.C.
"Every day there are companies we are working with that are ready to have this conversation when, even just 12 months ago, they weren't," Nowalk said. And he agreed that flexibility in cloud pricing and procurement is definitely a big reason for this shift.
"Cost is an advantage, but it's not necessarily cheaper," Nowalk said. "[But] you can control and manage costs a lot better."
Backup the low-hanging fruit of cloud storage adoption
While 50% of respondents said they use the cloud as their primary storage for production data, an even greater number -- 63% of IT shops -- use the cloud for data backup, according to the TechTarget survey. Meanwhile, 43% of users rely on the cloud for data archives.
"Backups and long-term archival of data are usually a good starting point for the conversation, if they are not in cloud storage today," Nowalk said, noting that these are the initial use cases Opex tends to see in organizations adopting cloud storage.
Still, one reason so many survey respondents said they use the cloud for data backup could be the sheer volume of cloud backup services on the market -- ranging from the more traditional offerings, such as those from CommVault, to cloud gateways and even an emerging take on cloud disaster recovery, known as data protection as a service, Nadkarni said.
And while more organizations are getting their feet wet with cloud storage -- either through backup services, archival or using the cloud to house production data -- not all organizations are on board. Concerns around security, compliance, and, increasingly, being locked into a particular cloud service still prevail in some IT shops.
"One thing that holds people back is the lock-in," Nadkarni said. "They wonder, if their data goes into the cloud, how they'll ever get it back."
The silver lining, however, is that consumers have far more choices when it comes to cloud storage adoption today than they did in the past. He pointed to Google's Nearline cold storage and data archiving service, which competes against Amazon Web Services' Glacier, as an example of a new cloud storage option for organizations to consider.
"The good news is that there is a lot of choice now, a lot of options," he said. "Yes, Amazon is the big king there, but there are others who are also offering some pretty attractive prices."
Through the Amazon Simple Storage Service, users can choose from three different cloud storage options. The first, called Standard Storage, is designed for frequently accessed data, and ranges from $0.0275 to $0.03 per GB per month. The second tier, called Standard -- Infrequent Access Storage, costs $0.0125 per GB per month, while Glacier runs $0.007 per GB per month.
Google, for its part, offers three similar storage tiers: Standard for data that needs to be accessed frequently, Durable Reduced Availability (DRA) for data that doesn't need frequent access, and Nearline. Standard storage is priced at $0.026 per GB per month, while DRA and Nearline cost $0.02 and $0.01 per GB per month, respectively.