Cloud-based content management system delivers 'features as a service'
When Agile isn't agile enough: DNN transforms its legacy, monolithic Evoq content management system into a microservices, cloud-based, 'features as a service' architecture.
If content is king, overseeing it must be akin to governing a vast kingdom.
For the maker of one popular enterprise content management system (ECMS), the time had come to relocate that kingdom into the realm of the cloud, relegating its comparatively medieval, monolithic, client-server predecessor to the scrap heap of history. Call it a cloud-based content management renaissance of sorts.
"The long lead time -- two to three years between major version releases -- had become frustrating for us," said Joe Brinkman, vice president of technology at DNN Corp., the San Mateo, Calif., developer of the Evoq ECMS. "Agile development, where we could talk about major releases every four to six months, wasn't fast enough, either." The problem was twofold: an inability to get new or improved features to customers quickly, and a desire to speed up bug resolution.
With its newly announced Evoq 9 product, DNN undertook an extreme makeover, converting its ECMS from a traditional, monolithic architecture to one that is cloud-first, based on containers and microservices. The centerpiece is leveraging the concept of feature decoupling. This decoupling -- essentially containerization of features as microservices -- allows Evoq ECMS updates to be delivered through a mechanism Brinkman dubbed FaaS, or features as a service.
Content management is universal
Helping corporations keep their internal and customer-facing online content up-to-the-second current is no small matter. According to MarketsandMarkets, the annual ECMS market in the United States is expected to soar from $28.1 billion in 2016 to $66.27 billion by 2021, a compound annual growth rate of 18.7%.
Cloud-based content management is for businesses of all sizes -- not only as a way to deliver current content quickly, but to comply with governance policies to ensure it's the correct content in the correct, device-specific presentation format.
Agile development, where we could talk about major releases every four to six months, wasn't fast enough.

Joe Brinkmanvice president of technology, DNN
DNN's redesign allows users to separate content from layout, using a new capability, Evoq Manage, to organize and store content in a microservice powered by Microsoft Azure and managed by DNN. With content and layout no longer commingled, repurposing and reuse of content to multiple sites, devices and distribution channels are simplified. Through the Evoq Manage stateless API, developers can directly access and retrieve content stored by the Evoq Manage module.
"DNN's move to features as a service helps our clients become agile," said Fred Beer, president of ITX Corp., a provider of web and mobile software products and services based in Pittsford, N.Y. "Instead of installing an entire new software release, updates to individual features are distributed in real time. This allows us and our clients to focus less on software versions and more on delivering value to end users."
Getting there wasn't easy
For DNN, doing a straight conversion of its existing platform into a full cloud-based content management counterpart made little sense from a budget perspective. Brinkman said it would have led to a two-year development and testing cycle, with nothing to show for it until the very end. "By adopting our cloud-based FaaS approach, we were able to take carefully planned, deliberate steps; move the platform to the cloud over time; and deploy each step as it was ready."
In addition to the decoupled approach, the Evoq 9 ECMS includes an API that allows system users to add their own customizations that remain isolated from the underlying engine, ensuring a wayward line of code does not crash the entire system. Current customers include Bank of America, Aetna, True Value Hardware, Whirlpool and the U.S. Department of Defense.
When you start with microservices, there's a lot to learn architecturally that's different from everything you did before.

Joe Brinkmanvice president of technology, DNN
For its first go-around with developing microservices, DNN looked at Azure Service Fabric and Docker containers for delivering microservices. "The reality is that when you start with microservices, there's a lot to learn architecturally that's different from everything you did before," Brinkman said. "We ended up cutting back the scope of features."
One early decision was to back away from Microsoft's service fabric and containers. "There were too many moving parts and too much to learn," Brinkman said. Months later, with more expertise under its belt, DNN is now revisiting the technology.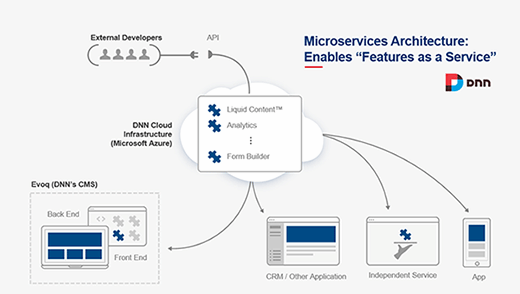 Built on Azure
DNN is a longtime Microsoft shop, starting on Internet Information Server and SQL Server. Today, the company uses the "full gamut" of Azure development tools, along with the Java-based Apache Lucene search engine library and Rettic multipurpose HTML templates from Templines.
To facilitate its FaaS strategy, DNN considered several NoSQL cloud document databases, including Apache Cassandra and MongoDB, ultimately choosing Azure DocumentDB.
DNN provides customers with the ability to run Evoq either on premises in their own data center or on the cloud of their choosing, according to Brinkman. "Our implementation hosted in Azure is becoming increasingly popular," he said. "As we move further into our FaaS architecture, I expect we'll see more of that."
"Content is king," a line widely attributed to a January 1996 Bill Gates essay, actually goes back several years earlier: first to a talking point he frequently brought up following the May 1990 debut of Windows 3.0, and later with the 1993 launch of the now-defunct Microsoft Encarta CD-ROM encyclopedia. While Gates' sentiment remains the same, the technology driving it is vastly different. Brinkman put it in perspective: "With cloud technology, we are able to provide enterprise-class content management at a great price, and do it with great speed." These days, cloud-based content management is king.
Joel Shore is news writer for TechTarget's Business Applications and Architecture Media Group. Write to him at [email protected] or follow @JshoreTT on Twitter.
Dig Deeper on Cloud application development