Mathias Rosenthal - Fotolia
Google Cloud Platform services engage corporate IT
To ascend in the public cloud market, Google Cloud Platform services now center on next-gen applications, and have taken a decidedly enterprise-centric spin.
Google continues public cloud as a hub for next-generation applications, but in 2017, the company took concrete...
Continue Reading This Article
Enjoy this article as well as all of our content, including E-Guides, news, tips and more.
steps to woo traditional corporations that haven't made that leap.
Google Cloud Platform services still lag behind Amazon Web Services (AWS) and Microsoft Azure, and Google's lack of experience with enterprise IT is still seen as GCP's biggest weakness. But the company made important moves this year to address that market's needs, with several updates around hybrid cloud, simplified migration and customer support.
Google Cloud Platform services eye the enterprise
The shift to attract more than just the startup crowd has steadily progressed since the hire of Diane Greene in 2015. In 2017, her initiatives bore their first fruit.
Google expanded its Customer Reliability Engineering program to help new customers -- mostly large corporations -- model their architectures after Google's. The company also added tiered support services for technical and advisory assistance.
Other security features included Google Cloud Key Management Service and the Titan chip, which takes security down to the silicon. Dedicated Interconnect taps directly into Google's network for consistent and secure performance. Several updates and additions highlighted Google's networking capabilities, which it sees as an advantage over other platforms, such as a slower and cheaper networking tier Google claims is still on par with the competition's best results for IT shops.
Google Cloud Platform services also expanded into hybrid cloud through separate partnerships with Cisco and Nutanix, with products from each partnership expected to be available in 2018. The Cisco deal involves a collection of products for cloud-native workloads and will lean heavily on open source projects Kubernetes and Istio. The Nutanix deal is closer to the VMware on AWS offering as a lift-and-shift bridge between the two environments.
And for those companies that want to move large amounts of data from their private data centers to the cloud, Google added its own version of AWS' popular Snowball device. Transfer Appliance is a shippable server that can be used to transfer up to 1 TB of compressed data to Google cloud data centers.
In many ways, GCP is where Microsoft Azure was around mid-2014, as it tried to frame its cloud approach and put together a cohesive strategy, said Deepak Mohan, an analyst with IDC.
The price point is fantastic and the product offering is fantastic, but they need to invest in finding how they can approach the enterprise at scale.

Deepak Mohananalyst, IDC
"They don't have the existing [enterprise] strength that Microsoft did, and they don't have that accumulated size that AWS does," he said. "The price point is fantastic and the product offering is fantastic, but they need to invest in finding how they can approach the enterprise at scale."
To help strengthen its enterprise IT story, Google infused its relatively small partner ecosystem -- a critical piece to help customers navigate the myriad low- and high-level services -- through partnerships forged with companies such as SAP, Pivotal and Rackspace. Though still not in the league of AWS or Azure, Google also has stockpiled some enterprise customers of its own, such as Home Depot, Coca-Cola and HSBC, to help sell its platform to that market. And it also hired former Intel data center executive Diane Bryant as COO in November.
GCP also more than doubled its global footprint, with new regions in Northern Virginia, Singapore, Sydney, London, Germany, Brazil and India.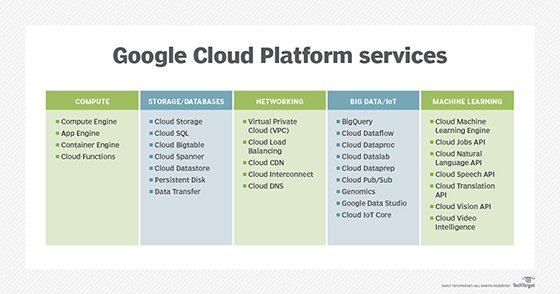 Price and features still matter for Google
Price is no longer the first selling point for Google Cloud Platform services, but it remained a big part of the company's cloud story in 2017. Google continued to drop prices across various services, and it added a Committed Use Discount for customers that purchase a certain monthly capacity for one to three years. Those discounts were particularly targeted at large corporations, which prefer to plan ahead with spending when possible.
There were plenty of technological innovations in 2017, as well. Google Cloud Platform was the first to use Intel's next-gen Skylake processors, and several more instance types were built with GPUs. The company also added features to BigQuery, one of its most popular services, and improved its interoperability with other Google Cloud Platform services.
Cloud Spanner, which sprang from an internal Google tool, addresses challenges with database applications on a global scale that require high availability. It provides the consistency of transactional relational databases with the distributed, horizontal scaling associated with NoSQL databases. Cloud Spanner may be too advanced for most companies, but it made enough waves that Microsoft soon followed with its Cosmos DB offering, and AWS upgraded its Aurora and DynamoDB services.
That illustrates another hallmark of 2017 for Google's cloud platform: On several fronts, the company's cloud provider competitors came around to Google's way of thinking. Kubernetes, the open source tool spun out of Google in 2014, became the de facto standard in container orchestration. Microsoft came out with its own managed Kubernetes service this year, and AWS did the same in late November -- much to the delight of its users.
Machine learning, another area into which Google has pushed headlong for the past several years, also came to the forefront, as Microsoft and Amazon launched -- and heavily emphasized -- their own new products that require varying levels of technical knowhow.
Coming into this year, conversations about the leaders in the public cloud centered on AWS and Microsoft, but by the end of 2017, Google managed to overtake Microsoft in that role, said Erik Peterson, co-founder and CEO of CloudZero, a Boston startup focused on cloud security and DevOps.
"They really did a good job this year of distinguishing the platform and trying to build next-generation architectures," he said.
Azure may be the default choice for Windows, but Google's push into cloud-native systems, AI and containers has planted a flag as the place to do something special for companies that don't already have a relationship with AWS, Peterson said.
Descartes Labs, a geospatial analytics company in Los Alamos, N.M., jumped on Google Cloud Platform early on partly because of Google's activity with containers. Today, about 90% of its infrastructure is on GCP, said Tim Kelton, the company's co-founder and cloud architect. He is pleased not only with how Google Container Engine manages its workloads and responds to new features in Kubernetes, but how other providers have followed Google's lead.
"If I need workloads on all three clouds, there's a way to federate that across those clouds in a fairly uniform way, and that's something we never had with VMs," Kelton said.
Kelton is also excited about Istio, an open source project led by Google, IBM and Lyft that sits on top of Kubernetes and creates a service mesh to connect, manage and secure microservices. The project looks to address issues around governance and telemetry, as well as things like rate limits, control flow and security between microservices.
"For us, that has been a huge part of the infrastructure that was missing that is now getting filled in," he said.
Trevor Jones is a senior news writer with SearchCloudComputing and SearchAWS. Contact him at [email protected].
Dig Deeper on Google and other public cloud providers