Evaluate
Weigh the pros and cons of technologies, products and projects you are considering.
Jump into 2017 with these top cloud computing predictions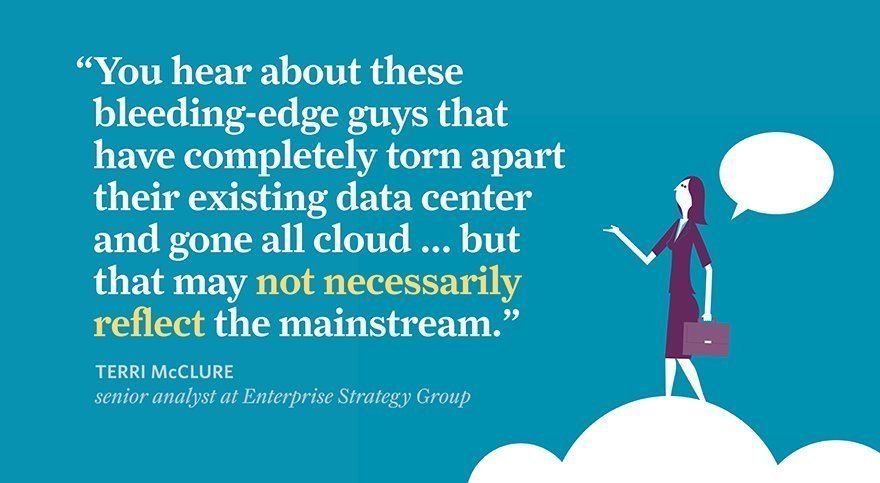 There's little doubt that public cloud adoption will continue to grow in 2017, and as it does enterprises will gain the clearest picture yet of what the public cloud does -- and doesn't -- deliver.
"We are seeing more and more organizations looking at cloud and saying, 'It gives me speed, it gives me agility and it gives me flexibility,'" said Terri McClure, senior analyst at Enterprise Strategy Group, an analyst firm in Milford, Mass. "But if they look at running these apps on premises versus in the cloud over a three- to five-year period, it may not give them the cost savings they want to achieve."
Rather than assume the public cloud will lead to cost savings, many organizations next year will cut through the cloud computing hype to realize that on-premises deployments are, in some cases, a more cost-effective option. For example, some production applications -- especially those that would incur large data ingress/egress charges in the public cloud -- should stay put.
"The story that vendors put forward and the stories that are fun to tell are your edge use cases," McClure said. "You hear about these bleeding-edge guys that have completely torn apart their existing data center and gone all cloud … but that may not necessarily reflect the mainstream."
What's more, some of the next-generation on-premises technologies, such as software-defined and hyper-converged appliances, that were initially exclusive to hyper-scale companies including Amazon and Google are more widely available. As a result, some organizations have shifted their attention on premises, and recognize that these new technologies can help them increase the scale and agility of their own data centers.
"I'm not saying that the cloud is going away," McClure said. "I'm just seeing more cloud strategies driven from the top-down include the on-premises world."
Indeed, public cloud adoption is still expected to boom in the coming year. Gartner's cloud computing predictions suggest the worldwide public cloud services market will grow 17.2% in 2016 to total $208.6 billion, up from $178 billion in 2015.
In addition to cutting through some of the cloud computing hype, especially around costs, many organizations have honed their knowledge of what exactly the cloud is.
The misconception that any off-site IT service is automatically "the cloud," for example, has become less common, according to a recent CompTIA survey.
"In the second stage of cloud adoption, end users are showing a tendency toward refinement of cloud concepts," the survey findings state, noting that this "refined understanding has led to a rebalancing of self-assessment around cloud activity."
View All Photo Stories