Evaluate
Weigh the pros and cons of technologies, products and projects you are considering.
Jump into 2017 with these top cloud computing predictions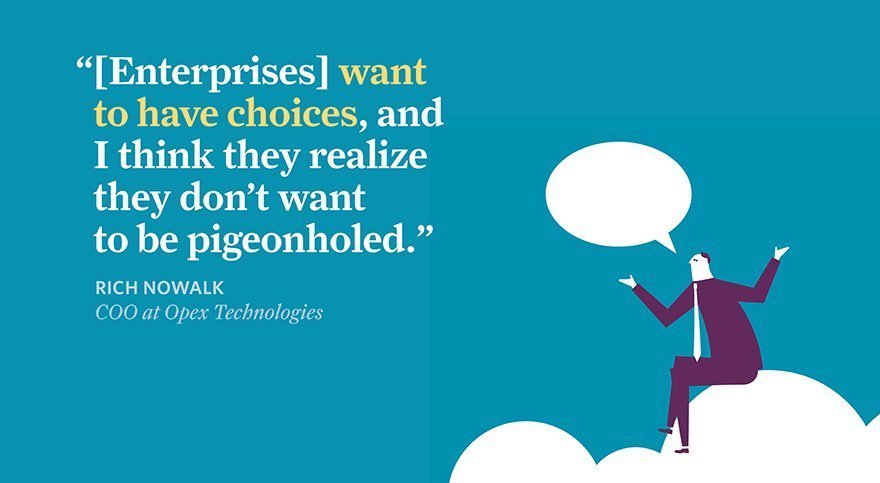 If hybrid cloud was the big trend in 2016, then multicloud computing -- the use of multiple infrastructure as a service providers -- will move toward the mainstream in 2017, according to industry experts.
"[Multicloud] is the end goal," said Rich Nowalk, COO at Opex Technologies, a cloud advisory firm based in Raleigh, N.C. "[Enterprises] want to have choices, and I think they realize they don't want to be pigeonholed."
In addition to offering more choice and flexibility, the use of multiple cloud providers for infrastructure as a service (IaaS) can help enterprise IT teams mitigate the risks of data breaches or outages, comply with certain regulatory requirements, and map their applications to the best possible cloud instance type.
One of the most common multicloud models will be a mix of services from public cloud market leader Amazon Web Services (AWS) and Microsoft Azure, Nowalk said, because of Microsoft's strong foothold in the enterprise.
One Opex client, for instance, uses AWS today but has a long-standing Enterprise Agreement with Microsoft, so "they know they will be consuming Azure someday," he said.
Multicloud computing is among the top cloud computing predictions for 2017,but it will come at the cost of complexity. Managing a public cloud deployment across multiple providers' platforms, which can differ in the features they offer and the location of their data centers, can bring new challenges for IT shops. To properly address these challenges, they must evolve their cloud management toolkits.
"We'll see a surge in demand for cloud management and governance tools to handle the thousands of cloud resources needed to support [multicloud] workloads, as well as cost monitoring tools and, of course, security tools," said David Linthicum, senior vice president at Cloud Technology Partners, a cloud consulting firm in Boston and a TechTarget contributor.
In some cases, these tools will come from traditional IT vendors like Microsoft and IBM, which have expanded their legacy system management tools to address cloud needs. In other cases, they'll come from newer, born-in-the-cloud startups such as RightScale and ScalR.
Regardless, these tools will play a critical role in helping IT teams automate, orchestrate and govern applications as they move across the IaaS boundaries of multiple cloud providers.
"[Enterprises] know they won't be able to get there overnight," Nowalk said. "But that's where they definitely want to go."
View All Photo Stories