Fotolia
Evaluate
Weigh the pros and cons of technologies, products and projects you are considering.
Cloud partnerships, acquisitions to shake up market in 2017

Listen to this podcast
With rising competition between cloud vendors, more will pursue partnerships or acquire other companies to boost their own offerings. AWS and VMware provide one recent example.
Cloud partnerships and acquisitions are on the rise, as new technologies and market demands push vendors to evolve their services.
In 2016, for example, Amazon Web Services (AWS) and VMware joined forces and made it possible to run VMware's software-defined data center software on the AWS public cloud. Enterprises, in general, increasingly see a benefit in working with more than one vendor, and pursue a mix of cloud computing providers.
"I think enterprises and companies of all sizes really need to start thinking in terms of ecosystems when it comes to cloud," says Dana Gardner, president and principal analyst at Interarbor Solutions, an analyst firm in Gilford, NH, in a recent podcast. "We're starting to see some major players in the delivery space, as well as the software and infrastructure space, reconfigure themselves."
In this podcast, Gardner speaks with David Linthicum, senior vice president at Cloud Technology Partners, a cloud consulting firm in Boston, and a TechTarget contributor, about the AWS-VMware deal, how it affects IBM and what to expect as more cloud partnerships develop.
Why are more cloud partnerships and acquisitions occurring?
In the past few years, cloud vendors have aggressively formed partnerships and made acquisitions to add value to their services and attract more customers. As new models emerge, such as hybrid and multicloud, vendors need to adjust their strategies to meet enterprise needs in the future -- and one way to do that is through spinoffs, mergers and partnerships. The recent AWS and VMware deal is one example.
"This move makes AWS more appealing for VMware customers looking to run applications on a hybrid cloud," Linthicum says. "Users will be able to manage public cloud deployments like they're on premises VMware deployments using VMware software."
AWS gets to sit back and watch the meter go higher and lock in to more VMware install base and, perhaps, put in an advantage over what Microsoft can offer.

Dana Gardnerpresident and principal analyst at Interarbor Solutions
By teaming up with AWS, VMware can more tightly integrate its products with a major cloud provider, while AWS can evolve its hybrid cloud strategy. Users also benefit from cloud partnerships like this because of reduced integration pains.
But while joining forces helps both AWS and VMware, sometimes one vendor gets the better end of the deal.
"AWS gets to sit back and watch the meter go higher and lock in to more VMware install base and, perhaps, put in an advantage over what Microsoft can offer," Gardner says. There are some fears that AWS will try to grab workloads and make them native, which can lock users in with maintenance, support and upgrades. However, "it's a different economic model in the public cloud … I don't know if it makes sense for AWS to follow that same trajectory of forcing people into a native environment to lock them in," he adds. [4:43-9:23]
Where does IBM fit into this new age of cloud?
AWS and VMware are not the only vendors changing to meet enterprise demands. IBM has seen a decline in revenue over the last few years and faces challenges in its traditional software and hardware business. To expand its cloud computing platform, the company acquired SoftLayer in 2013.
"[IBM is] vying for the survivability of their public cloud strategy and their public cloud platform and this [AWS and VMware partnership may be] something that is going to really start pulling clients away from them," Linthicum says.
On the other hand, IBM is slowly but surely transitioning its cloud strategy by offering public and hybrid cloud options, as well as exploring higher-end services, such as machine learning, artificial intelligence and analytics. In the third quarter of 2016, IBM saw growth in cloud revenue, which rose 44% compared to a 30% rise in the second quarter.
And, while IBM may struggle against public cloud heavyweights like AWS, it does have services that help set it apart in the market, Gardner says.
"The big thing IBM is doing, however, is placing some very big bets on machine learning [and] artificial intelligence. …. Even though their public cloud or software may not be differentiators, their understanding and their data access into a vertical industry and market, and the ability to create data intelligence services around that, that seems to be the business model they're going to," Gardner says.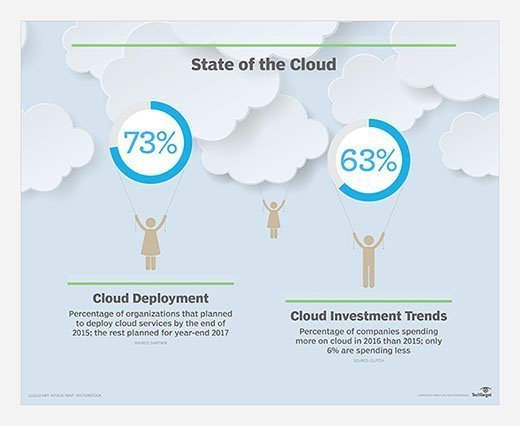 What will the cloud vendor landscape look like in five years?
Enterprises continue to see the benefits of a hybrid cloud computing ecosystem, as well as using multiple providers. With numerous vendors competing to come out on top, enterprises also benefit from better prices and more service option. Additionally, the evolution of cloud has given way to new technologies and process, such as big data analytics and machine learning.
"I think there's going to be huge, titanic shifts that are going to occur in the next five years," Linthicum says. "Workloads [and] where we run them is going to change and how we deal with security and governance."
To meet these new enterprise needs, cloud partnerships between vendors will likely continue, Gardner says.
"It's hard to say, five years out, who is going to be dominate or standing, but clearly the model is going to be basing [the] future on the public cloud and reverse engineering. …. So you're going to see alignment and you're going to see partnerships, and maybe even acquisitions that bolster a full public cloud PaaS (Platform as a Service), data services [and] infrastructure that is updated and advanced for on-premises use," he says.