Jason Stitt - Fotolia
Cheaper by the dozen: Uncover usage-based cloud discounts
Enterprises constantly seek new ways to reduce cloud computing costs. Take time to review your instance types from AWS, Azure and Google to see if certain discounts apply.
In commerce, retailers often provide discounts when customers buy more of a product. Some of that same logic has permeated the public cloud market, with major providers, such as Amazon Web Services and Google, offering usage-based cloud discounts.
But with cloud providers, it's not quite as simple as "buy one, get one," or "buy three for the price of two." To take advantage and reduce your cloud costs, familiarize yourself with the details, all of which can be complex and subject to change.
Here's a breakdown of cloud discounts for Amazon Web Services (AWS), Azure and Google instances.
AWS
AWS offers several usage-based cloud discounts, available through specific instance types, such as:
Amazon Elastic Compute Cloud (EC2) Reserved Instances: Users can buy these cloud instance types at a discounted rate that's up to 75% less than AWS On-Demand Instances, which charge for compute capacity by the hour. Reserved Instances also allow users to reserve capacity within a specific AWS Availability Zone. Users can choose from three payment options: No Upfront, Partial Upfront and All Upfront, and whether they want a one- or three-year term. Generally, users save the most money when they choose to pay more upfront. Users can purchase Reserved Instances from other AWS users, or directly from AWS.
While Standard Reserved Instances offer a discount of up to 75%, there are also Convertible Reserved Instances, which provide savings up to 45% compared to On-Demand pricing, according to AWS. Convertible Reserved Instances offer better choices for instance types and operating systems than Standard Reserved Instances.
AWS also offers volume discounts on Reserved Instances. When users buy a large number of these instance types in a particular AWS region, their upfront fees and hourly fees for future Reserved Instance purchases in that same region are reduced. For example, purchases up to $500,000 receive no future discounts, but spending between $500,000 and $4 million earns a 5% upfront discount and a 5% hourly discount.
Amazon EC2 Spot Instances: These instance types allow users to bid on unused Amazon EC2 compute capacity that's available at a lower cost than On-Demand instances. Spot Instances can help users reduce operating costs from 50% to 90%, according to AWS.
To use Spot Instances, users create a Spot Instance request or a request for a Spot Instance fleet, which is a group of Spot Instances. When users make a Spot Instance request, they include their maximum bid per hour per instance, and other constraints, such as the instance type and Availability Zone. If users' bids are greater than the current Spot price for the specified instance type, and that instance is available, they get the instance. If this isn't the case, the request is fulfilled whenever the Spot price falls below the bid price or the instance becomes available.
Google Cloud Platform
Google Cloud Platform also offers cloud discounts based on usage and instance type that can help organizations cut costs, such as:
Sustained use discounts: Users can qualify for this discount when they run Google Compute Engine instances for 25%, or longer, of the billing month. Google automatically credits back a portion of the costs, and the discount scales higher as the user employs more resources. For example, users who run an instance for 50% of the month receive a 10% discount, and users who run an instance for 75% of the month get a 20% discount, according to Google.
In addition, Google offers inferred instances, which help users qualify for sustained use discounts. For example, if a user runs an instance for the first 12 days of the month, stops it for two days, and then runs a similarly sized instance for the rest of the month, Google provides a discount credit for most of the month as if it were the same instance.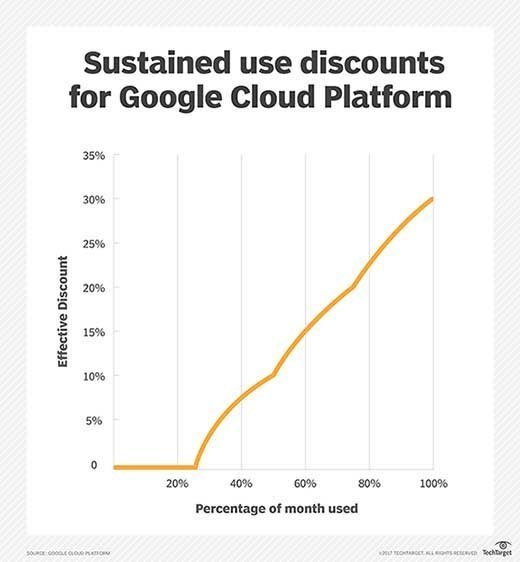 Google Preemptible VMs: These instance types are the same as regular instances, except for one key difference: Google may shut them down at any time and they have a maximum lifespan of 24 hours.
By not guaranteeing uptime, Google is able to offer these instances up to 80% cheaper than its standard instances. Preemptible VM pricing is fixed, and prices are as low as $0.01 per hour. Users have taken advantage of Preemptible VMs to efficiently run large workloads, as well as smaller, low-priority processing jobs, according to Google. They are also a good fit for distributed, fault-tolerant workloads.
Google Custom Machine Types: These allow users to create Google Compute Engine instances with customizable virtual CPU and memory configurations for specific workloads. Users save an average of 19% -- and as much as 50% -- with these instance types, according to Google.
In addition to the cloud discounts above, Google offers a VM sizing recommendations service to help users ensure their instances are the right size for their workloads.
Microsoft Azure
Microsoft declined to provide details on usage-based cloud discounts for Azure, but there are some steps users can take to control costs. For example, Azure is available for free trial and offers a Spending Limit feature to help users avoid potential charges from exceeding the trial terms.
In addition, organizations can use the Azure portal to see a breakdown of their costs, download past invoices and view usage files. Resource tagging can also help users manage costs.
In general, Azure's cloud discounts are fundamentally different than those from other providers, said Deepak Mohan, research director for public cloud infrastructure as a service at IDC. This is because many of those cloud discounts are tied to the existing Enterprise Agreements customers have for other Microsoft services.
"They are less transparent," he said. "It is hard to say what their discounts are, but, based on anecdotal information, it is possible that they have the deepest discounts of all," he said.
Microsoft rolled out changes to its Azure licensing model, in general, earlier this year.
Dig Deeper on Cloud pricing and cost optimization