Mike_Kiev - Fotolia
Compare machine vs. deep learning services in the cloud
Machine learning and deep learning increasingly make their way into the enterprise. Assess which AI technology is right for you, and the public cloud services that support them.
AI has been around for decades, but the technology received renewed attention this year -- including in the enterprise. As a result, new buzzwords, such as machine learning and deep learning, continue to circulate. But for many, the true meaning and value of these technologies isn't entirely clear.
While machine and deep learning services are both AI technologies, they are not the same. Find out the difference between the two, the business applications and which public cloud services support them.
Machine learning vs. deep learning
Machine learning is more tactical in nature. It imbeds intelligence into business processes to reach decisions more quickly. For example, it can analyze data to learn when to reorder more raw materials based on factors such as inventory, manufacturing productivity or market demand. It can evaluate all of these factors at the same time, much like a human with years of experience predicting when you need to reorder materials -- but can do so in less than a second. The interest in machine learning stems from the number of business applications there are for the technology, and its ability to make AI more practical for enterprises.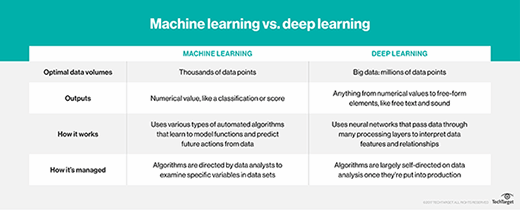 Deep learning, also known as deep neural networking, takes it a step further and focuses on a narrower subset of AI. It looks much more deeply into data and trends to form conclusions, such as which movies Netflix should recommend to users based upon metrics like viewing habits, duration of viewing time or ratings. Deep learning services can have more serious applications, as well, such as charting and spotting issues with DNA or gathering data from wearable devices to determine potential health risks.
Deep learning services in the cloud
Amazon Web Services (AWS), Microsoft Azure and Google Cloud Platform all offer machine and deep learning services that are native to their public clouds. There are also third-party services available through their respective marketplaces.
Recap of users' top machine learning projects
Implementing machine learning is still new for many organizations. In this podcast, TechTarget looks back at some of its most interesting interviews about the technology. Listen to experienced users who have put machine learning in their enterprises.
In October 2017, AWS released Deep Learning AMIs (Amazon Machine Images) for Amazon Elastic Compute Cloud (EC2) P3 Instances. These AMIs come pre-installed with deep learning frameworks, such as TensorFlow, Gluon and Apache MXNet, that are optimized for the Nvidia Volta V100 GPUs within Amazon EC2 P3 instances. The deep learning service currently offers three types of AMIs: Conda AMI, Base AMI and AMI with Source Code.
The Microsoft Cognitive Toolkit is Azure's open source, deep learning service. Similar to AWS' offering, it focuses on tools that can help developers build and deploy deep learning applications. The toolkit is installed in Python 2.7, in the root environment. Azure also provides a model gallery that includes resources, such as code samples, to help enterprises get started with the service.
Expect more machine learning and deep learning services from the public cloud providers in the future. And as that happens, enterprises will define more business needs for the technology.
Dig Deeper on Big data, machine learning and AI