markrubens - Fotolia
Evaluate
Weigh the pros and cons of technologies, products and projects you are considering.
Consider costs when selecting a cloud deployment model
Choosing a cloud deployment model is a multivariate problem, but cost differences between hybrid and all public can be important. Kurt Marko offers his take.
Cost is an often-cited reason for adopting public cloud, but ask IT pros about their preferred cloud deployment...
Continue Reading This Article
Enjoy this article as well as all of our content, including E-Guides, news, tips and more.
model and most say hybrid. But splitting workloads between private and public clouds complicates both the design and cost analysis.
The 2016 RightScale State of the Cloud survey reported 71% of respondents use both public and private clouds. Up from 13 points from the past year, these organizations aren't necessarily hybrid cloud users, but multi-cloud. Cost isn't the only, or even primary element when allocating cloud resources among service providers, but it is an important one. The distinction between the private and public cloud is important as cost is a key factor in determining usage; emphasizing an understanding of cloud costs is critical when developing a hybrid cloud strategy.
Comparing public and private clouds can be trickier than discussing public cloud cost modeling and cloud application development costs. This is because the models have different variables. Private cloud is heavy on CapEx and personnel -- both of which are fixed costs, at least over the medium term -- and public cloud is primarily OpEx -- which conversely is primarily a variable cost, over either the short or medium-term depending on the cloud subscription model.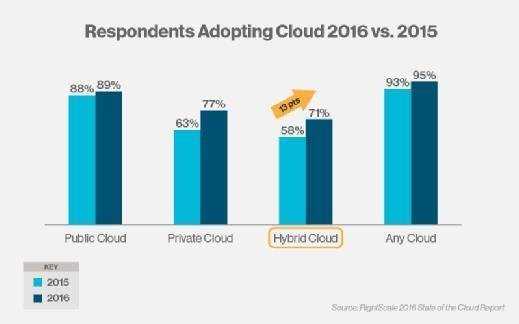 Another wrinkle in the cost model is the type of hybrid architecture, which is related to the type of workloads deployed and IT's overall goals. There are several ways to employ a hybrid design including:
Backup and disaster recovery (DR), where the primary infrastructure for an application is generally on private, often on-premises infrastructure that is replicated to an infrastructure as a service backup in case the primary fails.
Test/dev versus production, in which applications are developed and tested in one environment, typically public cloud, and deployed in another, usually private.
Cloudbursting is a model closest to the hybrid car analogy, where the baseline workload is provided by one environment, often private cloud, with peak workloads handled by the other, public cloud in this case. A wrinkle on the cloudbursting model is the dynamism of the workload. Some change slowly and predictably, such as seasonal variations in e-commerce platforms and monthly or quarterly workload peaks on financial systems. Other applications can be much more volatile, changing based on unexpected social network activity, media mentions or software updates that attract new users. Workload predictability influences the infrastructure architecture and choice of cloud services and hence the cost.
Dig Deeper on Cloud pricing and cost optimization