creative soul - Fotolia
Container training options to bulk up a cloud resume
Container skills are in high demand in the enterprise, as Docker and Kubernetes adoption grows. Bulk up your cloud resume with these training and certification options.
As the container market continues to gain momentum, some cloud professionals will need to update their skill sets yet again.
The application container market will grow from $762 million in 2016 to $2.7 billion by 2020, representing a compound annual growth rate of 40%, according to analyst firm 451 Research.
To prepare for this growth, IT pros should advance their knowledge of three specific technologies: Docker, Kubernetes and microservices. Fortunately, there are various container training and certification programs available.
Docker
The word container almost immediately conjures up images of Docker, an open source container ecosystem launched in March 2013.
There are several options to gain Docker skills. Edureka, an online training organization, offers a certification program that covers core Docker components, such as Docker Hub, Docker Compose, Docker Swarm, Dockerfiles and Docker Engine.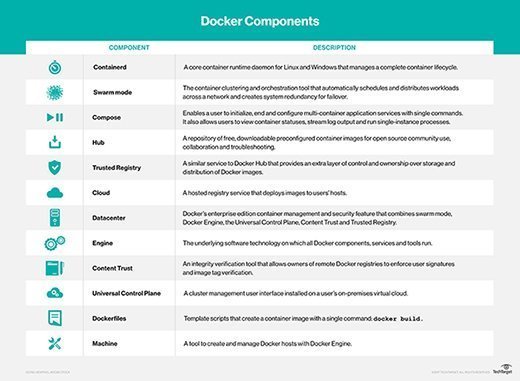 Docker, Inc. also offers container training through a range of different courses. Its Docker Security course, geared toward developers, operations staff, DevOps teams and system architects, covers best practices for securing containerized workloads, as well as the capabilities of add-on Docker security tools. Some of the topics discussed include kernel namespaces, control groups and user management.
Linux Academy offers a Docker Deep Dive course that examines both the basics of Docker, such as how to install and configure the technology, as well as more advanced features and tasks, such as integration.
Kubernetes
Once an enterprise deploys containers, it needs to manage them. Kubernetes is Google's open source container cluster management tool. It provides a platform to automate the deployment, scaling and operation of application containers across host clusters. Like Docker, there are a range of container training courses related to Kubernetes.
Container Solutions, a consulting firm focused on containers and cloud computing, offers a Kubernetes 101 training course. Students learn how to use Kubernetes for private and public cloud applications, as well as Kubernetes' basic technical concepts and terminology. The two-day class covers the typical application lifecycle: creating an application with Kubernetes, connecting it to the internet, managing its system resources, updating it and, finally, killing it.
Learning Tree International, an IT training provider, also offers an Introduction to Kubernetes class, which enables IT professionals to use Kubernetes for traditional system management tasks, such as resource allocation, troubleshooting and load balancing multiple workloads.
Mirantis offers an exam to become a Certified Kubernetes Administrator. To receive this container certification, students should take Mirantis' Kubernetes and Docker Bootcamp II course, which features a hands-on lab.
Microservices
A goal for many enterprises is to take large, monolithic software programs and break them up into smaller pieces that they can more easily mix and match. Microservices -- which are often used alongside containers -- are the latest approach to meet that goal.
With microservices, each module supports a specific design goal, such as user authentication. Simple, well-defined APIs enable those modules to communicate with one another.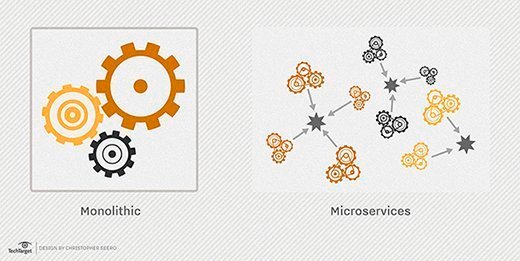 It's a good idea to fold microservices into your container training. One option is from Linux Academy, which developed a Deploying Microservices with Puppet and Containers class to help IT professionals understand how to deploy the architecture. The course teaches how to build Docker images using Puppet with r10k and Hiera, a Puppet configuration management tool.
Dig Deeper on Managed Kubernetes and container services