alphaspirit - Fotolia
Demand for cloud computing skills continues to outpace supply
Despite growth in adoption, a cloud skills gap still exists. Now, firms hunt for candidates with more specialized skills related to public cloud and open source platforms.
As enterprises continue to adopt cloud technology, the looming IT skills gap, particularly around public cloud, poses an ongoing challenge.
"Many firms are having trouble finding qualified individuals for their cloud projects," said James Stanger, senior director, product development, for CompTIA.
While demand for IT pros with generic cloud computing skills continues to be high, those with specific experience in public cloud and open source platforms, such as Cloud Foundry, are especially coveted.
Cloud continues to drive IT hiring
At 24%, cloud is the second biggest driver of demand for technology skills -- right behind digital marketing skills at 25% -- according to a survey by Robert Half Technology, an IT staffing firm. "Cloud projects are near the top of CIOs' priority lists," said John Reed, senior executive director at the company.
On any given day, more than 11,000 job listings mention cloud computing on Dice.com.
But businesses still struggle to fill open cloud positions. On any given day, more than 11,000 job listings mention cloud computing on Dice.com, a high-tech job site, up 7% from the 2016 statistics, according to the company.
A recent CompTIA survey also found that 46% of firms see the skills gap growing, with the primary reason being that too many workers -- 96% -- lack advanced skills. Cloud infrastructure and applications placed third on the list of expertise that's most in demand, with 57%, and was only 2% behind artificial intelligence and the internet of things, which tied for the top spot.
The switch from generic to specialized cloud computing skills
Businesses continue to look for IT pros with generic cloud computing expertise. "Firms need cloud architects, [and] individuals who can help them understand how the cloud fits into their existing infrastructure," Stanger said.
But organizations also have a growing need for more specialized cloud computing skills, such as those related to a specific provider or platform. For example, with Amazon Web Services as the top public cloud service provider, AWS-specific skills remain in high demand. A quick search on job site Indeed.com finds more than 25,000 unfilled positions in the U.S. related to AWS.
AWS has a comprehensive training and certification program in place to help IT pros gain the cloud computing skills they need. The program has courses and tests in four areas: architecting, development, operations and special skills, such as big data.
As Microsoft continues to evolve its public cloud, the number of jobs related to Azure has risen 40% year over year, according to Dice.com. Microsoft is a leader in the training and certification market and has developed a broad suite of tools for IT pros that seek Azure positions. The company has a handful of free training classes and a number of Azure certifications on topics that range from machine learning to Linux.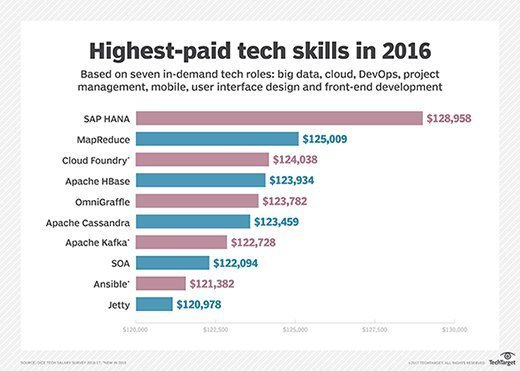 Cloud Foundry skills pay off
Like cloud provider-specific experience, cloud computing skills related to open source platforms, including Cloud Foundry, are also in demand. Cloud Foundry is a free, multicloud application platform as a service. IT professionals with Cloud Foundry skills make an average of $124,038 a year, which represents the third highest-paid IT skill set, according to Dice.com's annual tech salary survey.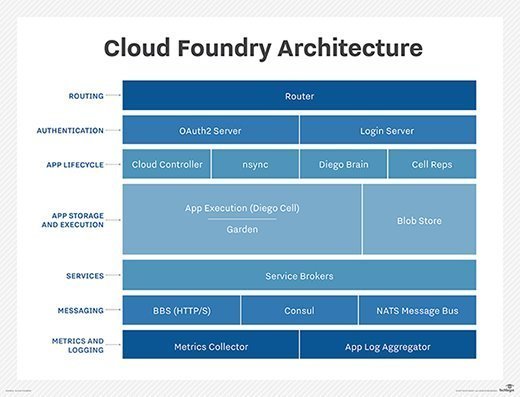 In response to demand for Cloud Foundry skills, the Foundation created a training and certification program and, in June 2017, said more than 5,000 developers were trained as Cloud Foundry Certified Developers. The exam topics covered included:
Cloud Foundry basics;
cloud-native architectural principles;
troubleshooting applications on Cloud Foundry;
cloud-native application security;
working with services in Cloud Foundry;
application management on Cloud Foundry;
container management within Cloud Foundry; and
aptitude in modifying simple Java, Node.js and Ruby applications.
The training is offered by companies such as Biarca, Capgemini, Cognizant, Dell EMC, IBM, Innovivi, Linux Foundation, Pivotal and SAP.
Dig Deeper on Cloud architecture design and planning