Evaluate
Weigh the pros and cons of technologies, products and projects you are considering.
Evaluate these 9 multi-cloud management platforms
Dig into the benefits -- and drawbacks -- of the top tools and services to help enterprises manage their hybrid and multi-cloud environments.
Organizations think one cloud is good -- but two or more clouds are better. This explosion of multi-cloud exposes a need for management tools to address the growing complexity caused by workloads that span cloud services and architectures. Indeed, the number of multi-cloud management software products is expected to more than double, to 30, by 2021, according to Gartner.
As with most things cloud, multi-cloud management doesn't neatly fit a universally accepted definition, and as a result there's a muddle of product feature sets. Nonetheless, most vendors of cloud-agnostic management software have arrived at roughly the same place, even if they took different paths to get there, often through acquisition and assimilation. Here are some of the most notable vendors currently in this space, in no particular order.
Typical qualities for multi-cloud management tools
The most comprehensive cloud management software products incorporate features in five categories:
Automation and orchestration for both applications and individual VMs;
Security, including identity management and data protection/encryption;
Policy governance and compliance, including audits and SLA metrics;
Performance monitoring of both the infrastructure -- compute instances, storage, networks -- and applications; and
Cost management through resource optimization and billing estimates.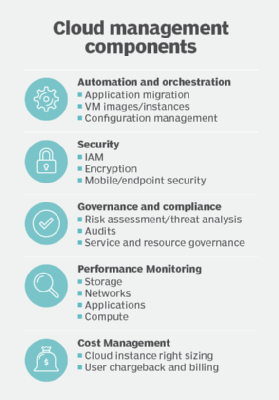 Gartner adds service requests, cloud inventory and multi-cloud migration and backup to this definition of a cloud management platform, although many companies already have systems in place to provide those functions.
Another offshoot of multi-cloud management is infrastructure-as-code, which is a form of infrastructure automation and configuration. It doesn't attempt to address the entire scope of cloud governance, but programmable, version controlled infrastructure is important for organizations that embrace DevOps and end-to-end automation methodologies such as CI/CD.
Below are high-level breakdowns of some of the vendors and tools that shape the market for multi-cloud management, including holistic management vendors, IT service management (ITSM) tools and infrastructure-as-code options.
Notable multi-cloud management providers
Multi-cloud management vendors continue to expand their functionality in a race to offer the broadest range of tools. They often provide a centralized view into an enterprise's distributed resources, though each vendor has its strengths and weaknesses. Here are some of the most notable vendors currently in this space.
1. CloudBolt broadly supports cloud environments and hypervisors. It automates the import and redeployment of legacy installations to the cloud. CloudBolt includes modules for cloud resource and cost management. It works via an agentless technology, which can simplify the deployment of resource blueprints to multiple disparate cloud environments.
Limitations: CloudBolt is user-installed software, not a SaaS product, and it lacks built-in support for resource monitoring or optimization, so users must integrate with supported partners for those capabilities.
2. Embotics works with both public and private cloud resources. It includes automation templates, cloud expense reporting and budgeting, self-service deployment from a central resource catalog, task approval workflows and policy compliance auditing.
Limitations: Embotics lacks integrated monitoring features, and some users complain that the UI is confusing. Also, the company is migrating its platform onto a new REST API, which users indicate does not support some features.
3. Flexera (formerly RightScale) is a long-established, mature multi-cloud management platform, with a feature set that includes service orchestration, policy enforcement and usage controls, as well as cost optimization and budgeting. It has an extensive list of supported cloud providers.
Limitations: RightScale was SaaS-only, and originally targeted cloud-focused businesses, with no on-premises offering for large enterprises. Moreover, as with any acquisition of fast-moving companies, there's a risk of growing pains to integrate with the parent company and normalize products -- in this case, Flexera's software asset management products -- which can distract from other initiatives. Another potential downside is that users might need professional services to implement the platform's more complicated features, such as the multi-cloud gateway appliance.
4. CloudSimple, acquired by Google in November 2019, provides secure, dedicated environments for users to migrate and run VMware workloads in the public cloud, including demanding enterprise workloads such as database-backed and high-I/O applications. It natively runs the entire VMware stack including vSphere/vCenter, vSAN and NSX-T, and has a unified management console for all deployments.
Limitations: So far, CloudSimple only supports Microsoft Azure and Google Cloud Platform (GCP) -- VMware Cloud on AWS offers equivalent functionality -- and only manages VMware environments, not native cloud resources. And the same risks of integration apply as with RightScale and Flexera, though Google can bring more resources to bear.
5. Hypergrid uses a predictive analytics engine with over 400 million benchmarked data points to optimize cloud cost and resource decisions. The product covers cloud cost management, optimization and budgeting along with security and policy compliance monitoring for both VM and container environments. It also provides self-service provisioning within defined policies.
Limitations: Some features, such as instance planning, app cost modeling and resource inventory are only available for AWS, so it might not work for some enterprises' multi-cloud management needs. Hypergrid's latest version, released in 2018, combines hardware and software from Gridstore and DCHQ, which merged in 2016 to form the company.
6. Morpheus Data offers a comprehensive feature set with modules for automated and self-service provisioning, resource configuration, monitoring and incident management, workload scaling, policy compliance and reporting. It has broad multi-cloud support covering more than a dozen platforms, and a large third-party ecosystem for integrations with automation, backup, identity and access management, ITSM, monitoring, networking and security providers.
Limitations: Morpheus is on-premises only, with no SaaS option except through third-party managed service providers. Also, its cost management and optimization features are less robust than some competitors' products. Furthermore, the numerous integrations and options for setup mean organizations with existing tools must do some post-deployment integration testing, which may require professional services.
7. Nutanix Xi Beam product evolved from the company's 2018 acquisition of Minjar, and its Botmetric service for cloud cost management, control and workload visibility. Beam monitors cloud resource consumption and includes modules for consumption, cost controls, spending policies and optimization.
Limitations: Unlike other multi-cloud management options, Beam doesn't include infrastructure or other cloud service management, though other Nutanix products do. It optimizes configurations and costs, but isn't a full workload management system. The Nutanix product portfolio is disjointed and confusing, with products for traditional VM environments with cloud and container services that don't appear to be integrated or unified under a single console.
8. Scalr offers a rich set of cost management and optimization features and is particularly strong at controlling resource sprawl in VM environments. It includes self-service provisioning from a defined service catalog with a policy engine to enforce controls on resource provisioning and usage. The platform includes a modern, intuitive GUI. Scalr is also known for its scalability to thousands of users.
Limitations: Support for VMware environments is relatively immature, with some potential feature gaps compared with other supported platforms. Users must supplement its limited monitoring feature set with third-party integrations.
9. VMware, which pioneered modern x86 virtualization, has expanded its management stack to include cloud deployments. The vRealize suite features a central management console and control plane for VMware environments regardless of the deployment platform, and a growing list of vRealize Cloud modules cover blueprint-based resource management, resource catalogs, policies and self-service deployment and CI/CD for DevOps organizations. CloudHealth, which VMware acquired, addresses cost management and optimization.
Limitations: VMware lacks support for non-VMware environments, outside of the CloudHeath features. Thus, the tools are multi-cloud, since the VMware stack can run on AWS (natively), Azure and GCP (both via CloudSimple), but they're not stack-agnostic. Also, the integration of various modules -- vRealize, Cloud Foundation, vCloud Suite, and future additions such as Projects Pacific and Tanzu -- into a cohesive console and UI remains a work in progress.
ITSM software adds multi-cloud management
Beyond the field of multi-cloud management tools and vendors, other long-standing, on-premises IT vendors have sought to add multi-cloud management capabilities to their offerings as well. IT service management vendors, such as BMC Software, CA Technologies, Micro Focus and ServiceNow, have added multi-cloud management modules or products. These platforms primarily target large organizations with strict ITSM-based governance processes, so the cloud management capabilities mainly appeal to those vendors' existing customers, particularly those that integrate these suites into their IT processes.
Infrastructure-as-code tools
Another category of multi-cloud management software is infrastructure-as-code tools, which support a form of infrastructure automation and configuration. While it doesn't attempt to address the entire scope of cloud governance, programmable, version-controlled infrastructure is important for organizations that embrace DevOps and end-to-end automation methodologies such as CI/CD.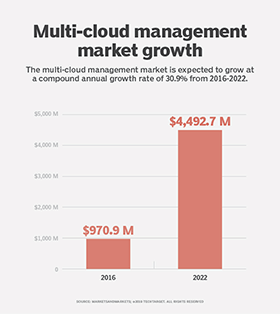 Platforms such as Chef, Puppet, Red Hat Ansible and HashiCorp Terraform can systematize and automate multi-cloud management. This is done via cloud-agnostic encapsulation of resource configurations and deployments, as text files structured with YAML or JSON, that are portable and easily automated. These kinds of templates enable users to consistently deploy resources and configurations across all IaaS platforms that their chosen tool supports, and add new platforms via software modules or libraries.
Limitations: Infrastructure-as-code tools do not address resource consumption, costs and usage optimization or application services such as backup and disaster recovery. Furthermore, templates and blueprints require configuration coding expertise and a UI. Thus, infrastructure-as-code tools are primarily geared to DevOps organizations stringing together multiple automation tools into a programmable CI/CD toolchain.
A native cloud management console
Each of the vendors and products in the field of multi-cloud management has its strengths and limitations, but their primary value is that they consolidate management across multiple cloud platforms into a single interface and control plane that consistently applies configurations and usage and security policies. But what if you only use one cloud and don't have to worry about managing disparate environments?
Third-party software once plugged holes in cloud vendors' management capabilities, but vigorous software development and strategic acquisitions by the major public cloud providers such as AWS, Microsoft Azure and Google have dramatically enhanced their native management platforms. Tools such as AWS Cost Explorer and Azure Cost Management include analytics, reporting and optimization features once found only in add-on products.
Organizations that currently use a single cloud setup should stick with their cloud provider's native management services for cloud workloads, and their on-premises infrastructure management stack to the degree it supports that chosen cloud platform. If you extend the workload to another cloud environment or run into significant limitations with the built-in tools such as lack of visibility or manual vs. automated provisioning and analytics, explore these multi-cloud management options instead.
Dig Deeper on Multi-cloud strategies