beawolf - Fotolia
Five tips to overcome OpenStack management challenges
Enterprises feel a sense of freedom with OpenStack, but management challenges can weigh them down. Use these tips to bolster your management strategy for the open source platform.
To avoid the risk of vendor lock-in, some enterprises turn to open source cloud technologies, such as OpenStack. The OpenStack platform provides an agile and flexible infrastructure as a service model. It's split into three main service offerings -- compute, networking and storage -- that admins can manage through the same dashboard. Enterprises like the control they can have over the infrastructure, applications and data.
But a major drawback of the technology is that it is still relatively young, which means IT pros have to deal with more complexity. With over 50 components, OpenStack has many moving parts that make deployment difficult, especially since there are not enough IT pros with OpenStack skills. OpenStack management tools and services can help ease those challenges, as well as access to third-party resources. Follow these tips to make the most out of your OpenStack deployment.
Explore OpenStack management options for private cloud
To build and operate an OpenStack private cloud from scratch, IT teams need various management tools. The OpenStack Horizon dashboard is a web-based interface to manage and monitor OpenStack services. Other OpenStack management tools include Ceilometer, Murano and Congress. The OpenStack community is also developing Fuel, a tool to deploy, test and maintain various configurations. The main problem with these tools, however, is that they vary in maturity level, which can make some of them more challenging to use.
Enterprises can take advantage of other, third-party tools, such as Red Hat's CloudForms, for provisioning and automation, and Cloudyn, for monitoring and governance. Additionally, Mirantis bundles Fuel into an OpenStack distribution set with optional hardware. When choosing a tool, think about your enterprise infrastructure plan. Software-defined infrastructure is gaining popularity, so cluster managers, such as StratCloud or Mirantis, might be good for future needs.
Consider customizing the OpenStack Horizon dashboard
Horizon, the OpenStack management dashboard, is made up of three parts: the User Dashboard, the System Dashboard and the Settings Dashboard. Admins can use the dashboard to launch and manage compute instances, configure access controls and more.
Recent versions of OpenStack give cloud admins more options for Horizon customization. With the Kilo release, users can now access customizable themes with different color modifications, layouts and styles. Currently, cloud admins can make their own themes from scratch or build on top of existing themes. Besides the ability to customize the navigation bar, tables, alerts and other elements, admins can insert enterprise logos or branding. Admins can also explore more advanced configuration options.
Minimize risks and downtime during an OpenStack update
With the constant evolution of services, tools and features, it is important to keep an eye out for OpenStack updates. The open source platform is still young and experiences new releases about every six months, which can cause some disruption. To avoid downtime, make sure the new updates don't carry dependencies to other modules. If they do, update both modules together.
Automatic OpenStack updates minimize downtime and are faster than manual updates through the command-line interface. Admins can achieve this automation through OpenStack distributions, such as Red Hat's OpenStack Platform Director. Other third-party vendors include Hewlett Packard Enterprise, Dell Technologies and IBM. While these OpenStack management tools are not perfect, due to cross-module dependences, they will provide assistance during major updates.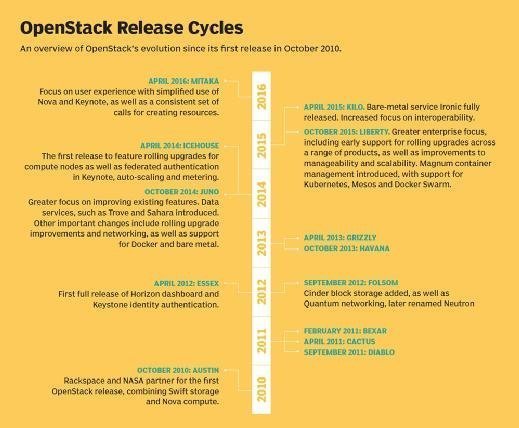 OpenStack scalability tests the patience of IT pros
When it comes to cloud, scalability is crucial to meet the demands of growing computing environments. The ability to scale resources up and down is also easy on the cloud budget, since enterprises only need to pay for what they use. However, OpenStack continues to struggle with scalability. Admins can use third-party tools to increase scalability, but there are vendor lock-in risks. Before running to a third-party vendor, consider some other OpenStack management practices.
The source of OpenStack's scalability issues stem largely from Neutron, an OpenStack networking module, which can scale to only about 30 modes. The Nova and Keystone modules can also contribute to the scalability challenge by creating bottlenecks. Admins can tune Nova to increase the number of API and conductor workers, which reduces networking and bottleneck issues. As OpenStack services evolve and mature, scalability challenges will lessen.
Use OpenStack Tempest to test a deployment
Performing OpenStack tests can ensure that everything works as intended. Enterprises can use tests to discover any abnormalities that could compromise data and affect user experience. OpenStack Tempest is a tool that offers three types of tests for the open source cloud platform: the API test, the Scenario test and the Unit test.
Of the three tests, the Scenario test is usually the most popular because it targets OpenStack workflows. For example, cloud admins can use this test to fine-tune the VM deployment process. When you create a test, remember to define its scope, including all the involved OpenStack components and how they should interact. Unfortunately, running a test to see if a data center is fully functional is not an easy task and will require more time and planning.
Dig Deeper on Open source cloud computing