vali_111 - Fotolia
Get the most out of your providers' cloud marketplaces
Cloud providers have created online storefronts with third-party apps and services that users can tap into. But before getting started, understand the potential limitations.
As enterprise cloud deployments grow, major providers have expanded their vendor partnerships and, as a result, their formal cloud marketplaces. While this expansion, in general, offers more opportunities for partners and more choices for users, there are some differences among the major cloud provider marketplaces that IT teams should know -- some superficial, and others more significant.
The rise of cloud marketplaces
In the past, big providers undervalued cloud marketplaces and partner ecosystems, according to Lauren Nelson, principal analyst at Forrester Research.
"They said, 'We don't need partners because we are so big,'" Nelson said.
However, providers have since learned that smaller players can offer differentiation to make their services more valuable.
As a result, major public cloud providers now have their own partner programs and certifications for specialties, such as hosting certain databases. "It is always evolving, and some of it is very use-case- and industry-specific," Nelson said.
Providers also build up cloud marketplaces to reduce users' lock-in concerns, and they point to the additional value they can get from third-party vendors, she said.
These cloud marketplaces are essentially online storefronts, providing access to applications and services that are built on, integrate with or somehow enhance a cloud provider's offerings, said Sid Nag, research director at Gartner.
The idea, Nag continued, is "stickiness" -- the parts work together. This encourages users to purchase across a spectrum of cloud-provider-related or compatible offerings.
There isn't a lot of market penetration yet, according to Nag, who said the latest Gartner hype cycle showed that only about 1% to 5% of the target users for these cloud marketplaces actually use them. But that is expected to grow as cloud adoption increases.
Prepare for potential challenges
Despite the value these cloud marketplaces can bring to cloud users, there are some pitfalls for which to watch. For starters, the technology included in these marketplaces is a mixed bag.
"As much as the public cloud providers wish it were otherwise, the various cloud marketplaces lack the organization, simplicity and ease of implementation that their cousins, the consumer marketplaces -- like Apple App Store and Google Play store -- have," said Andrew Marshall, director of product marketing at Cedexis, an Amazon Web Services Marketplace partner and a part of the AWS Partner Network, based in Portland, Ore.
The latest Gartner hype cycle showed that only about 1% to 5% of the target users for these cloud marketplaces actually use them.
Companies like AWS understand the value of enabling users to access tools it can't or doesn't provide, Marshall said. However, the reality is many of the complementary technologies listed in these marketplaces "lack the coin-operated and self-service usability of the actual public cloud offerings." As a result, most businesses find it just as easy to access the technology directly through the independent software vendor (ISV) or service provider and deal with integration and billing separately.
"The powerful value proposition of an unlimited dashboard of integrated technology services, along with a single billing structure, is still a worthy goal for public cloud vendors, but a fully mature model has yet to materialize," Marshall said.
It can be difficult to compare the costs of the two approaches -- buying software directly from an ISV versus in the AWS Marketplace -- since there are multiple pricing models in play, Marshall said. For instance, he explained, AWS offerings range from a free Amazon Machine Image(AMI), to Bring Your Own License AMI, paid AMI or software-as-a-service subscriptions that require the ISV to track metered charges.
Navigate cloud marketplaces
In general, the marketplaces from the three leading public cloud providers -- AWS, Google Cloud Platform and Microsoft Azure -- are similar, said David Linthicum, senior vice president of Cloud Technology Partners, a Boston consulting firm that partners with all three cloud providers.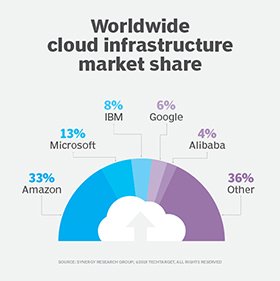 "They look a lot alike -- basically, just directories of services," said Linthicum, who is also a TechTarget contributor. AWS' is, at this point, more extensive, and is organized by technology, such as storage management, governance, security and DevOps, he noted. Microsoft and Google seem more focused on application development and testing.
If an organization uses a single provider, particularly AWS or Azure, it will probably search for additional applications and services within those providers' respective marketplaces first, Nag said. However, there are other options to find complementary technologies.
For example, many managed service providers have their own cloud marketplaces that provide access to more choices.
Most users start by searching through the directories in their own provider's cloud marketplaces, but there are always other options, Linthicum agreed.
"I always recommend that my clients do a broader search beyond the marketplaces," he said. "Some good tools are not listed there and must be found in other places."
Dig Deeper on Google and other public cloud providers