Sergey Nivens - Fotolia
Evaluate
Weigh the pros and cons of technologies, products and projects you are considering.
Microsoft OMS offers new functionalities
Microsoft OMS was released in 2015. Learn what new IT management features have been recently released.
Managing today's hybrid cloud IT infrastructure is more complex than it ever has been in the past. A few years...
Continue Reading This Article
Enjoy this article as well as all of our content, including E-Guides, news, tips and more.
ago, you just needed a way to manage your on-premises infrastructure and larger organizations needed multisite management, but today's environment has changed and is much more complex. Not only does today's IT environment often have multiple sites as well as multiple virtualization platforms that need to be managed, but they also often have multiple cloud platforms as well. There are multiple private clouds based on Hyper-V, VMware vSphere or OpenStack and often multiple public clouds, like Microsoft Azure and Amazon AWS. According to Microsoft, 80% of enterprise IT will be using hybrid cloud solutions by 2017.
Traditional management tools are not typically up to the task of dealing with this level of infrastructure diversity. The Microsoft Operations Suite (OMS) is a cloud-based software as a service (SaaS) solution that's designed to enable IT to manage both diverse on-premises systems as well as multiple cloud infrastructures. In spite of its similar name, it's important to note that Microsoft OMS is not the same as Microsoft Operation Manager (MOM) that is a part of the System Center Suite. Unlike MOM, which is an on-premises solution, Microsoft OMS is a SaaS offering. It can integrate with System Center, but it's not required. Microsoft first released OMS to little fanfare back in May 2015 and, since that time, Microsoft has rapidly released new functionality into the product on a monthly basis.
Microsoft OMS overview
OMS provides a variety of IT management functions including log analytics, automation, backup, disaster recovery, and data protection and security.
Log analytics -- OMS provides real-time operations monitoring by collecting, storing, and analyzing log data from Windows Server, Linux systems, and VMware from your own data centers and from Azure and Amazon AWS. There are 32-bit and 64-bit Windows agents and a Fluent plug-in for Linux and VMware. OMS includes prebuilt intelligence for common IT tasks and provides visualization into your operations using a dashboard and search-based reporting capabilities. Solution packs can be selected from an integrated gallery that offer prebuilt rules and algorithms for capacity planning, configuration intelligence and change tracking.
Automation -- OMS supports operational automation using PowerShell-based workflows. Automation enables you to automatically create, deploy and manage resources in your hybrid cloud environment, which can reduce errors and improve efficiency for repeated manual tasks. Automation runbooks can be created with a graphical workflow-authoring tool and they work with Web Apps in Azure App Service, Azure Virtual Machines, Azure Storage, Azure SQL Database and other Azure services. Checkpoints can be created that can resume a workflow after unexpected errors. A runbook gallery helps you get started creating your own custom runbooks.
Availability -- Integration with Azure Site Recovery and Azure Backup supports increased infrastructure availability. Azure Site Recovery can provide disaster recover for your on-premises workload in Azure and can enable you to easily move workloads into the cloud as well as let you test your recovery plans without impacting production workloads. Azure Backup enables you to create OS-level backups for your on-premises physical servers, virtual machines and Azure VMs to an Azure Backup Vault.
Security -- OMS provides centralized cloud-based server security by identifying missing system updates and checking server malware status. OMS collects security-related events from Windows security event logs, firewall logs and Windows event logs. It performs audit and breach analysis. Notable security issues are reported on the OMS dashboard.
Managing with OMS
You can create new OMS workspace by going to the site signing it. I found the login process to be quite finicky, as it appears to love to launch before you get a chance to enter the password. When you initially sign in to OMS, you're prompted to create a workspace. A workspace is essentially a dashboard that is used to display and query management data. You can see the OMS dashboard in Figure 1.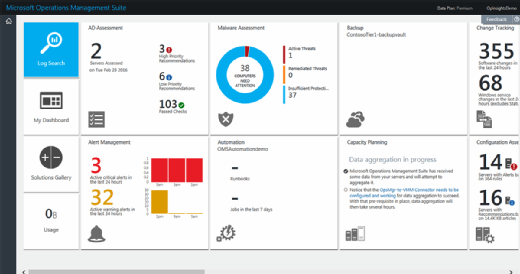 Each of the OMS monitoring areas are displayed in separate tiles. You can have multiple dashboards and you can customize the dashboard by using the Solutions Gallery to pull in a variety of prebuilt solutions. In Figure 1 you can see tiles for AD Assessment, Malware Assessment, Backup, Change Tracking, Alert Management Automation, Capacity Planning and Configuration Assessment. Additional tiles can be displayed by scrolling to the right. You can drill down into each area by clicking on the different tiles. In Figure 2 you can see the drill down into the Alter Management tile.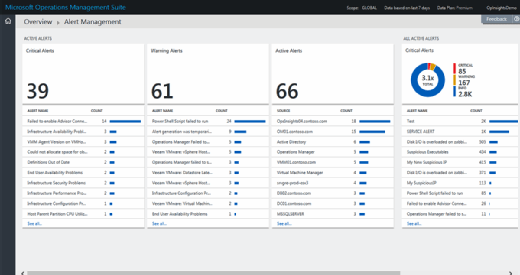 Pricing and licensing
Microsoft OMS is priced differently depending on whether you're using it with System Center or as a stand-alone product. Microsoft provides the following OMS pricing tiers:
Free tier -- If you want to try it out or you're looking for an SMB solution, there is a free tier that provides 500 MB per day of operational insights with a seven-day retention period. Site recovery is provided for the first 31 days of every protected instance. The free tier also provides 500 minutes per month process automation, plus Desired State Configuration for five nodes per month. There is no backup included with the free tier.
System Center Standard Edition -- Priced at $430 until June 30, 2016, this tier provides 100 GB per year of operational insights, as well as backup and site recovery for two VMs. Process automation allows 10,000 minutes per year. Desired State Configuration is provided for two VMs.
System Center Datacenter Edition -- Priced at $2,150 until June 30, 2016, this tier provides 500 GB per year of operational insights as well as backup and site recovery for 10 VMs. Process automation allows 50,000 minutes per year. Desired State Configuration is provided for 10 VMs.
Stand-alone -- OMS also offers an a la carte stand-alone pricing model where operational Insights are priced at $3.50 per GB. Backup is included at $10 per VM, per month. Site recovery to customer sites is $16 per month, per VM. Site recovery to Azure is priced at $54 per month, per VM. Process automation is $.002 per minute, and Desired State Configuration is $6 per VM, per month.
For more complete details about the pricing you can refer to Microsoft Operations Management Suite pricing.