jro-grafik - Fotolia
Navigate blockchain services in the public cloud
AWS, Azure and Google have entered the world of blockchain. See how this new technology could play a role in your business and learn the deployment challenges in public cloud.
The exact role of blockchain in the business is still up for debate, but interest in the technology is high -- and cloud is at the center of it all. So, it's not surprising that leading public cloud providers, including Amazon Web Services, Microsoft Azure and Google, have rolled out their own blockchain services.
And for enterprises, these services can help simplify adoption.
"It can be easier and more cost-effective to use a blockchain service from a public cloud provider if the alternative is to stand up your own infrastructure," said Martha Bennett, analyst at Forrester Research.
Microsoft has made a particularly good start, according to Bennett. The vendor has partner sandboxes within the Azure Marketplace and now offers blockchain software for operation within Azure. The company also targets the development of enterprise-level blockchain services. For instance, Azure's Project Bletchley introduces a secure middleware into blockchain applications.
Amazon Web Services (AWS) and Google also support blockchain. For example, GFT Technologies, an IT consultant for the financial services industry, joined Google's Partner Program with plans to deploy its distributed ledger "blockchain incubator" test infrastructure for banks on Googles Cloud Platform. This allows enterprises to simulate real-world distributed ledger operations.
Similarly, AWS provides sandboxing capabilities to companies eyeing blockchain opportunities, such as the Digital Currency Group, which collaborated with the cloud vendor to create a blockchain-as-a-service offering for financial services firms.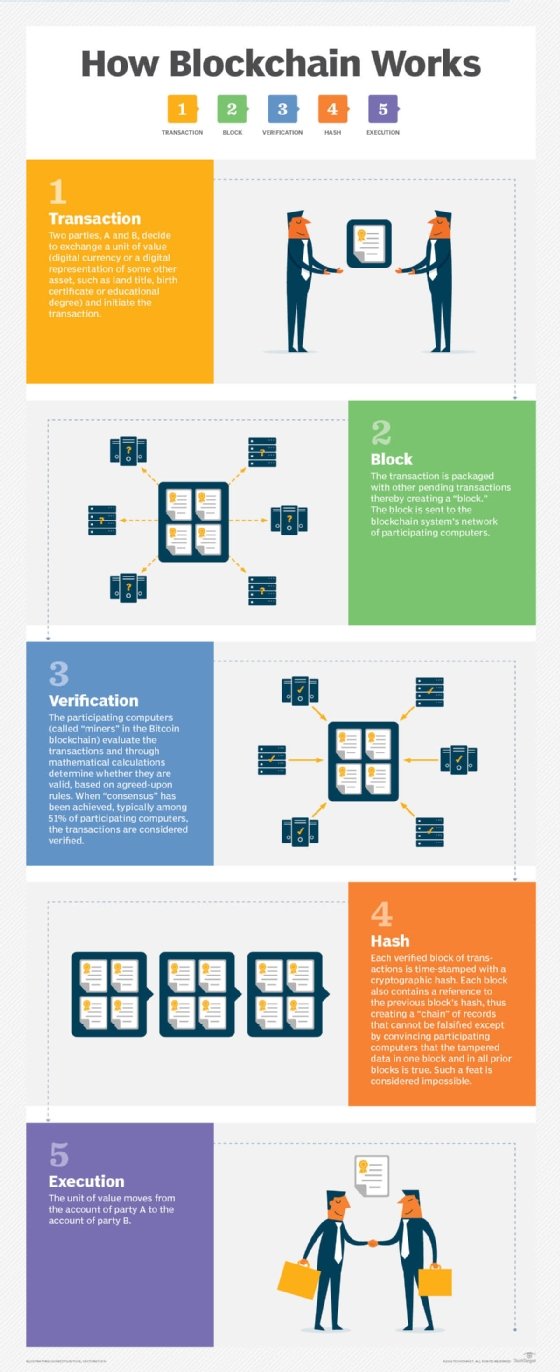 Blockchain services are a natural extension of the additional, higher-level features increasingly found on top public cloud platforms, said Peter Loop, associate vice president and senior principal technology architect at Infosys Ltd., an IT consulting firm based in Palo Alto, Calif. Some enterprises have advanced the discussion from how the cloud can reduce IT costs to how the cloud can enable new technologies, including blockchain.
"To be able to do a proof of concept with little to no hardware or software cost and no lead time is very, very compelling," Loop said. "Only the cloud providers and telcos have the network infrastructure to connect a large-scale, distributed network."
Challenges with blockchain services in the cloud
The same challenges that are present in any cloud deployment with a large provider also apply to blockchain. For example, vendor lock-in is a risk and, because blockchain, in general, is still a nascent technology, users need to understand what works and what doesn't -- especially at scale, Bennett noted.
Blockchain is about distribution, not centralization.

Stewart Bondresearch director of data integration software service, IDC
"No one has really run [blockchain] at scale except Bitcoin, which runs at scale but has limited throughput and huge latency issues," she said.
Even if you successfully deploy blockchain in the public cloud, you must architect your network to avoid single points of failure that cause downtime or performance issues. Bennett suggests using providers' different availability zones to mitigate these risks. For instance, AWS has 42 availability zones within 16 regions and Microsoft has 34 global regions -- with more on the way -- which helps support decentralization, she said.
Distribution is key for successful blockchain adoption
The more you distribute blockchain networks, the more resilient they become, according to Stewart Bond, research director at IDC. Likewise, the more participants on a blockchain network, the more trusted the blockchain application is.
Blockchain services in the cloud are less invasive to enterprise IT environments because they don't require investment in infrastructure. As a result, the cloud makes it easier for organizations to become part of a blockchain network, which allows for scale, and, therefore, more resiliency and trust.
"The only other option is for developers and organizations to build their own blockchain infrastructure," Bond said. "However, blockchain is about distribution, not centralization."