pressmaster - Fotolia
OpenStack skills shortage makes deployment an ongoing challenge
Enterprises that pursue OpenStack deployments often scramble to find IT professionals experienced with the open source platform. Will that skills gap close any time soon?
As enterprise cloud adoption increases, OpenStack appears to be gaining market traction. But, as businesses attempt to deploy the open source cloud platform, they encounter a common problem: finding IT professionals with OpenStack skills.
Revenue from OpenStack business models is expected to exceed $5 billion by 2020, representing a 35% compound annual growth rate, according to analyst firm 451 Research.
"We expect an uptick in revenue from all sector and geographic areas," said Al Sadowski, research vice president at the firm.
To support that growth, vendors and open source consortiums are scrambling to fill the OpenStack skills void.
Facing new challenges
Deploying OpenStack can be challenging, and building an OpenStack implementation from scratch is an especially complex task that requires a great deal of integration.
We've seen a consistent increase in demand for OpenStack experts over the past four years.

Terence Chiuvice president of Indeed Prime
This complexity stems from the OpenStack ecosystem being immature. The open source standards were established first as a joint project between Rackspace and NASA in 2010. Two years later, the development work was handed over to the OpenStack Foundation, an independent consortium. The project now features a few dozen components, such as messaging services and compute resources, geared toward supporting enterprise applications.
But those various standards are fledgling, and OpenStack infrastructure is still being developed. Consequently, businesses find themselves working with rudimentary OpenStack management tools and integration software development kits. According to research this year from open source software company SUSE, 65% of companies surveyed labeled their OpenStack deployments as difficult.
OpenStack equals open job positions
The challenges posed by OpenStack implementations create market demand for managed services and professionals with OpenStack skills. As a result, the OpenStack services market is expected to grow at a rate of 32.9% through 2019, according to RnR Market Research.
As demand for OpenStack expertise increases, so does the number of available OpenStack jobs.
"We've seen a consistent increase in demand for OpenStack experts over the past four years," said Terence Chiu, vice president of Indeed Prime, the technology-focused arm of job site Indeed.com. In 2012, virtually no OpenStack jobs were advertised on the site, but today, about 1,500 positions are advertised daily.
Still, since the infrastructure is relatively new, few IT professionals have the required OpenStack training. But, following the classic supply-and-demand model, those who have them are experiencing a salary increase
"Job candidates with experience can typically make in the $100,000 -$140,000 range," Chiu said.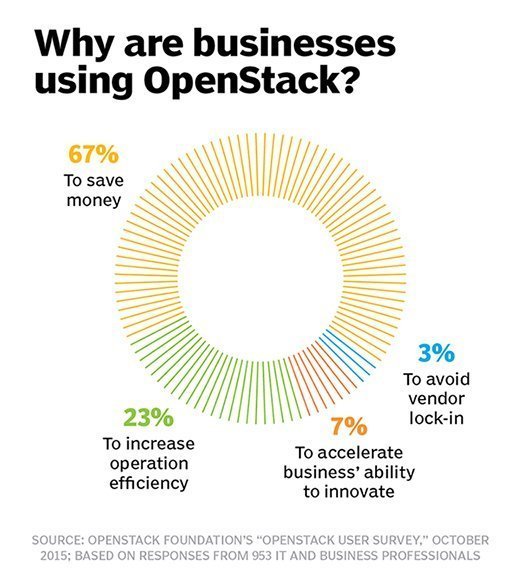 Filling in the blanks
Vendors and consortiums are trying to address the OpenStack skills shortage. In April 2016, the OpenStack Foundation launched its first certification program for OpenStack administrators. The program is geared toward OpenStack professionals with at least six months of experience managing an OpenStack cloud. The exam is based on OpenStack Liberty -- the 12th release of the platform -- and covers core compute, storage and networking issues. Candidates need to perform management tasks and solve problems using the OpenStack command-line interface and Horizon dashboard. The test costs $300 and takes about two and a half hours to complete.
At the Barcelona Summit, the OpenStack Foundation said 500 professionals had taken the exam in the five months since its launch, and 500 more planned to take it.
In addition to certifications, the Foundation has worked with partners to develop various OpenStack training programs. Dozens of companies, such as Mirantis, Rackspace, SUSE and The Linux Foundation, offer OpenStack training, with courses ranging from introductory to advanced.
Many of the classes are listed in the OpenStack Marketplace. The Linux Foundation, for example, offers "Essentials of OpenStack Administration," a classroom-based training course aimed primarily at those who are deploying applications and infrastructure on OpenStack.
Additional certifications and training programs are working their way into the pipeline.
"As the number of certified professionals rises, we're likely to see new certifications focused on different roles, such as architects or application developers, or more advanced areas like software-defined networking at scale," said Lauren Sell, vice president of marketing and community services at the OpenStack Foundation.
More certification and training programs likely mean a bigger pool of professionals with OpenStack skills -- something enterprises crave to simplify deployment.