Evaluate
Weigh the pros and cons of technologies, products and projects you are considering.
Optimize a hybrid cloud platform with storage as a service
In hybrid cloud computing, where you store data has a major impact on overall performance. Learn how SaaS can solve hybrid cloud data management and latency issues.
Through the ability to cloud burst, a hybrid cloud platform offers tremendous compute flexibility. But proper placement of hybrid cloud data, and speedy access to it across both public and private clouds, poses a challenge for IT teams. Storage as a service, however, can help.
The cloud bursting dilemma
The fundamental problem with cloud bursting is that data often lives in the wrong cloud environment. For many applications -- such as web services and media delivery -- it's best to replicate data to both public and private clouds. Any application in which the data set is mostly static lends itself to this model, and there is software that can automate the replication process.
But what about when data sets are active? Some IT teams choose to live with the latency issues. But this eliminates many of the benefits of cloud bursting. Alternatively, organizations could explore certain data-positioning techniques to reduce latency.
Think of the cloud as a continuum of services.
Think of the cloud as a continuum of services. If there are data replicas, whether active or static in more than one zone of your hybrid cloud platform, this supports resiliency and nonstop computing. If the in-house, private cloud segment goes down, you can burst the whole workload to the public cloud without loss of service.
This gives you two options for data management. One is to keep the primary data copy in house and replicate continuously to the public cloud. During cloud bursting, data is written to the cloud platform where the compute occurs and then syncs to the other copy. However, this model can still have write latencies, as well as small windows where data elements may be out of sync. This makes programming complicated.
The other option is to hold the primary data copy in the public cloud, and figure out a way to speed up access to that data for in-house compute workloads. This is where storage as a service (SaaS) becomes effective model for hybrid cloud computing.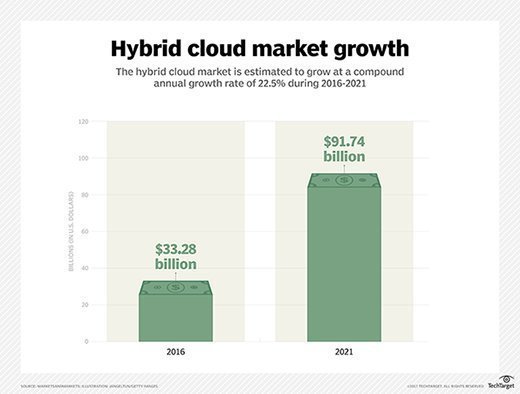 The role of SaaS in a hybrid cloud platform
SaaS vendors, such as Zadara Storage Inc. and Velostrata, offer space in a public cloud -- often one of the large public clouds, such as Amazon Web Services or Google -- on a rental basis. This solves the data availability and latency issues with the bursted workload and also allows users to replicate data in multiple geographic zones for increased disaster protection.
To solve in-house latency issues, SaaS vendors deploy a caching system in the customer's site that is optimized for rapid transfers and deep caching. The cache keeps a copy of hot data for in-house systems to use and also acts as a write cache for data changed in the on-premises, private cloud.
These caches systems are smart. They learn data flow patterns and anticipate workload requirements to achieve high-cache hit ratios. This caching capability is a key differentiator for SaaS vendors.
To implement the caches, SaaS vendors either deliver or recommend cache-engine configurations. Those with the highest performance levels use an all-flash build-out, with non-volatile memory express or fast Serial-Attached SCSI solid-state drives. They also use a large amount of dynamic RAM, acting as storage for index tables and compression primitives, which are stretches of data that are used multiple times in objects.
Data moves between the in-house cache and the public cloud in a highly compressed form, which significantly reduces latency and traffic in a hybrid cloud platform. Data written to the cache engine is compressed, and then stored in the public cloud, where it is replicated. This data is usually considered hot, so it is kept, at least for a period, in the cache engine, as well.
All data in the SaaS architecture is encrypted when written to the cache engine. In more advanced systems, the users own the key, which preserves HIPAA compliance. There is also an opportunity to tag the data with extended metadata prior to compression. Some systems, such as Rubrik, use that approach to offer enhanced searching and data manipulation.
SaaS vendors such as Velostrata and Zadara Storage offer a variety of service levels. In all cases, the cost of renting public cloud space is relatively low, especially with data compression, so the economics make SaaS attractive. The cost to try these services is also low and enterprises can choose a trial period to try a few test-runs.
Before you deploy SaaS for your hybrid cloud platform, it's also worth getting some customer references from vendors you are interested in.
Dig Deeper on Building and maintaining a hybrid cloud