Spot cloud security strategy flaws before it's too late
From compliance to encryption, there are many boxes an organization needs check to ensure its public cloud is secure. Use this flow chart to kick start that critical process.
There are certain public cloud benefits that seem undeniable. Organizations that embrace cloud platforms often see a number of advantages -- both from a business and technical standpoint. These range from reduced capital expenses to increased flexibility and scale. But, in the realm of IT security, the public cloud still gets a bad rap.
While perceptions are starting to change, many enterprises are still wary of the public cloud when it comes to application and data security. For some IT pros, the thought of relinquishing control to a third-party cloud provider seems like the stuff of nightmares. But, with the right security strategy in place, the public cloud can be just as, if not more, secure than traditional on-premises environments.
Of course, you can't create a solid public cloud security strategy overnight. There are a number of critical decisions to make and steps to take before you can ensure your cloud data is safe.
While perceptions are starting to change, many enterprises are still wary of the public cloud when it comes to application and data security.
Compliance standards, for starters, are a big one. Organizations in vertical markets, such as healthcare, need to make sure their cloud environments -- and cloud service providers -- comply with regulations such as the Health Insurance Portability and Accountability Act. Other industries, such as financial services, need to pay particular attention to Personally Identifiable Information guidelines.
Beyond compliance, IT security teams need to identify their unique application security requirements and determine whether traditional security approaches -- such as user IDs and passwords -- are enough to keep data safe. In many cases, more advanced security practices, such as proactive monitoring and identity and access management, will be a must -- especially for new applications.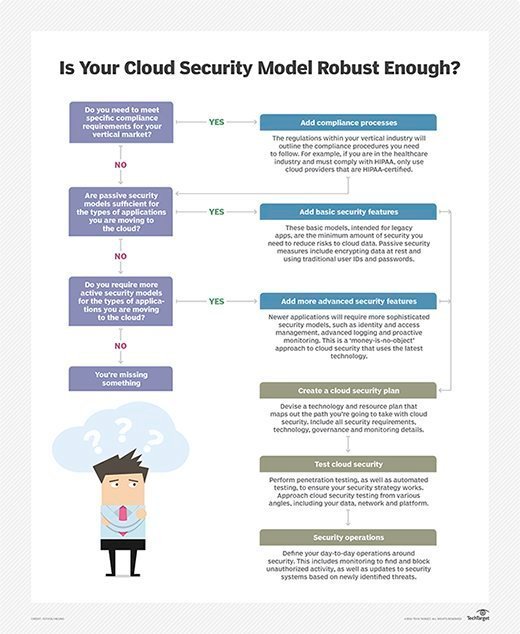 To meet these needs, organizations should consider using the cloud-native security systems each public cloud platform provides, such as Amazon Web Services' Identify and Access Management service. Third-party security products can also help meet these needs, but integration could be a challenge.
Organizations that don't think they need to meet compliance regulations, or that are comfortable with their security strategies, should review their cloud security framework to ensure 100% confidence in that stance. When the integrity of enterprise data is on the line, it's always worth a second look.
Even after crafting a cloud security strategy, the work doesn't stop there. Ongoing and automated security testing, and integrating security into your day-to-day IT operations, will be critical to keep the bad guys at bay.
Consult the decision flow chart above to steer your organization toward a public cloud security strategy that works best.