Problem solve
Get help with specific problems with your technologies, process and projects.
The best for last? Reviewing Terremark
Although an investment from VMware should mean that Terremark is the best among vCloud Express providers, our contributor finds that all the hype over Terremark's services may be for nothing.
This is part four of a multi-part series on the various VMware vCloud Express providers. If you're just joining us, please take a moment to read the introduction and proceed from there.
---
---
In theory, I saved the best for last. VMware's investment in Terremark should mean that Terremark has a clear advantage. On the front page, Terremark openly battles Amazon EC2 with a comparison chart.
Terremark makes the claim that VMware is a better cloud hypervisor platform than Amazon EC2's custom Xen platform. Terremark also boasts that there are more supported operating systems versus the canned application management interfaces (AMIs) from EC2, which is a legitimate advantage. With eight-way, 16 GB RAM virtual machines (thanks to the underlying hypervisor), Terremark also has an advantage in horsepower.
Terremark also touts hardware load balancing, but I'm not sure this is a true advantage. With software-based load balancers like Citrix NetScaler VPX and Amazon Elastic Load Balancing offering hardware-like capabilities, I'm not sure more hardware in the cloud service provider's data center matters to a cloud consumer.
The final bullet Terremark fires at Amazon is the use of 100% fibre attached persistent storage. Again, I fail to see how this is a win for Terremark. While the ability to use persistent storage is important, there are still use cases where non-persistent storage is ideal (security concerns, disposable sessions, etc.).
Fibre attached storage also doesn't matter; all that matters is that the performance of the storage for each instance meets the needs of the customer. The conduit means nothing to the cloud consumer as long as it meets the defined SLA and provides adequate performance for the end user.
On the Terremark website, both 3Par and EMC are shown as partners; I wonder who's providing the storage.
Terremark does offer the most comprehensive price list, similar to Amazon's. Terremark does the best job of listing its pricing. Below is an abbreviated chart, for the full details please refer to this website.
Processor and memory
1 CPU
2 CPU
4 CPU
8 CPU
Billing
512 MB
$0.035
$0.040
$0.045
$0.050
Hourly
1 GB
$0.060
$0.070
$0.080
$0.100
Hourly
2 GB
$0.120
$0.141
$0.161
$0.201
Hourly
4 GB
$0.241
$0.281
$0.301
$0.402
Hourly
8 GB
$0.402
$0.482
$0.602
$0.803
Hourly
12 GB
$0.602
$0.723
$0.903
$1.205
Hourly
16 GB
$0.803
$0.964
$1.205
$1.606
Hourly
Storage
Per Gigabyte
$0.250
Monthly
Bandwidth
Per Gigabyte
$0.17
Monthly
On the Terremark website, there is additional pricing for public IPs, Internet services and more. Terremark also offers subscriptions services, much like Amazon EC2.
Registration is straightforward, with one of the better looking forms I've filled out. The usual verification email is sent out upon registration, which takes all of 30 seconds to show up.
However, in the email it says, "Due to the volume of new user signups, we are temporarily reducing the frequency of vCloud Express accounts released on a daily basis. Your business is very important to us and we are working diligently to ensure you are granted an invitation for a new account without an extended delay.
When your account is approved for activation, you will receive an email with final registration instructions. Please check your Junk Mail folder on a daily basis to ensure your final registration email does not get deleted."
Really? This is the best Terremark can do? Perhaps they are having an issue that could be solved with proper CAPTCHA, or maybe they have a credit card verification issue that needs better checks for PCI compliance. Whatever it is, I expected a lot more from Terremark.
I then tried to fire up the Live Chat, but everyone was asleep in the cloud.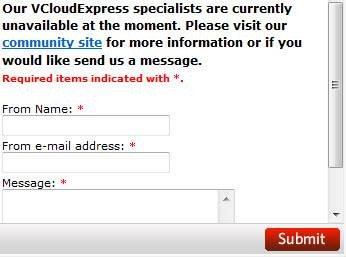 ---
---
Jason Langone

is vice president of Virtualization Services at Infinite Group, Inc. He has spoken at VMworld, Green Computing Summit and Virtualization Congress. Langone won the VMware Vanguard Award in 2007 and has architected some of the largest virtualization and cloud computing implementations to date. His solutions have been primarily implemented at Fortune Global 500 and public sector organizations and have received various accolades. Langone's focus remains on designing virtualization and cloud computing solutions in large-scale environments.
Dig Deeper on Azure, Google and other public cloud providers