Top five Azure application development resources
Are you just getting started with Azure application development? Here are five resources to ease your way.
Getting started with Microsoft Azure application development isn't always easy or straightforward. Almost immediately,...
Continue Reading This Article
Enjoy this article as well as all of our content, including E-Guides, news, tips and more.
a developer will have many questions. Can I use my existing development tools? Do I need special APIs? Where can I find the information I need to use all this? In this article, I'll share the five top Azure application development resources that I used to start developing Windows Azure applications. These should help you jump start your own Azure development projects.
1. Microsoft Visual Studio 2015
Visual Studio is Microsoft's premier development platform and it's no surprise that the newest version provides built-in support for developing Windows applications. Like past Visual Studio releases, the new release's Azure support tracks closely with Microsoft's development priorities. The Visual Studio 2015 enterprise and community editions provide built-in Azure connectivity, but this level of Azure integration isn't in older editions. This built-in Azure development project support makes developing Windows Azure applications, particularly Web applications, as easy as developing traditional Web applications.
When you open Visual Studio 2015 you're prompted to log in to Azure and create an Azure account with the name of https://<YourName>.visualstudio.com. Then, as Figure 1 shows, you can use the built-in Azure project templates to create new Azure application development projects.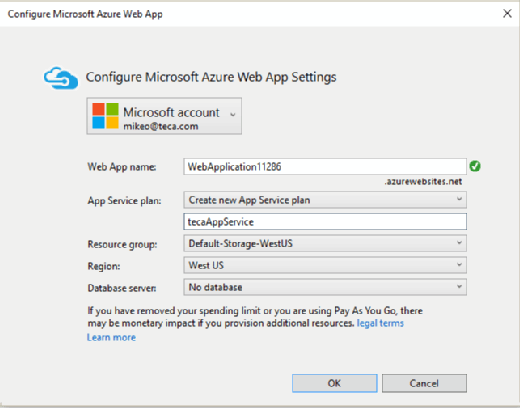 The template Figure 1 shows provides a default Web app name and it prompts you to create an app service plan as well as select an Azure resource group and region. Visual Studio's integration with Azure enables it to get the resource group and region information directly from your subscription so you don't need to know this information before creating your project.
You have an option to create a new Azure SQL database server for your application, which can be a big timesaver. But be aware that this database will be hosted on Azure and it will use Azure's SQL Server templates to create the database. Don't create a database by accident, because your Azure account will be charged. Additional templates let you create mobile and app service applications. These features are supported in the free Visual Studio 2015 community edition as well as the trial editions of the Visual Studio 2015 enterprise edition.
2. Using Azure application development tools for Microsoft Visual Studio
I like staying in the development environment as much as I can and Cloud Explorer lets me bypass the Azure portal for common tasks.
Microsoft also offers Azure Tools for Visual Studio, which provides additional Azure integration beyond Visual Studio 2015's built-in Azure connectivity tools. I don't know why Microsoft didn't include these tools with Visual Studio. It's confusing but Azure Tools for Microsoft Visual Studio is a separate download, and you won't get the Azure extensions these tools offer until you download and install them. Azure Tools includes the Microsoft Visual Studio.NET SDK with its cloud project templates and Cloud Explorer.
Cloud Explorer lets you connect directly to Azure resources from within the Visual Studio 2015 IDE, enabling you to work with Azure storage accounts, virtual machines (VMs), virtual networks, Azure Web apps, app service plans and the SiteRecoveryVault. I like staying in the development environment as much as I can and Cloud Explorer lets me bypass the Azure portal for common tasks. Figure 2 shows Cloud Explorer running in Visual Studio 2015.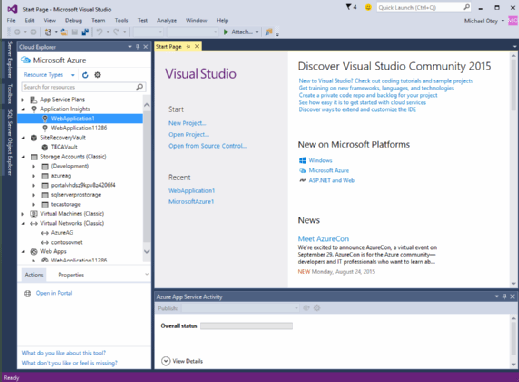 You can see Cloud Explorer in the pane on the left side of the screen where I expanded the Azure Application Insights node to show the existing Web applications. That's where you can work with your applications. The additional nodes let you work with other Azure resources. There also are tools for creating HDInsight and Azure Data Factory applications.
3. Azure software development kits
Visual Studio may be Microsoft's primary development platform, but it's not the only Azure application development platform that Microsoft supports. Microsoft offers a variety of software development kits (SDKs) that support the following development platforms:
.NET and Visual Studio 2015
.NET and Visual Studio 2013
Java
PHP
Python
Ruby
Node.js
For.NET and Visual Studio developers, Microsoft offers .NET SDKs that run on Windows and support Visual Studio 2015 and Visual Server 2013; but the SDKs don't support older releases. For Java and open source developers Microsoft provides support for the most popular development platforms. These SDKs don't provide the type of integration that Azure Tools for Microsoft Visual Studio has. For instance, there's no Cloud Explorer but there is support for Azure application development. The Microsoft Azure SDKs provide cross-platform support for Windows, Mac and Linux -- and they include installers as well as documentation. You can use these SDKs from the open source development tools such as Eclipse and JetBrains. In addition, there are mobile and media SDKs that support iOS, Android and Windows Phone 8.
4. Azure PowerShell
PowerShell is Microsoft's preferred management and scripting tool. And, as you might expect, Microsoft offers PowerShell support for Azure. You can use Azure PowerShell to automate your Azure operational tasks, but you need to be familiar with PowerShell's unique command-line syntax. Note: PowerShell out of the box doesn't include Azure support. You need to download the Azure PowerShell cmdlets in order to work with Azure resources. I use Azure PowerShell to create and allocate Azure storage, create VMs in Azure and deploy applications. Azure PowerShell requires .NET Framework 4.5. Figure 3 shows the Azure PowerShell console.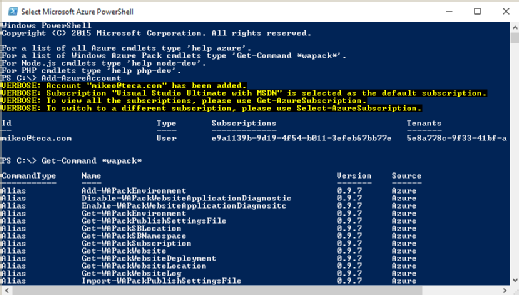 Before you can run any commands you need to use the Add-AzureAccount cmdlet to connect to your Azure account. After you're connected you can put the Azure pack cmdlets you can see partially listed in Figure 3 to work with your Azure resources.
5. Azure documentation
Of course, what set of tools is complete without documentation? I know that documentation is never a developer's favorite pastime but we always seem to need it. The Windows Azure documentation center provides guidance on developing with the .NET Framework, Java, PHP, Node.js and Ruby. Available documentation includes getting started guides, API references, tutorials and technical articles -- all the essential documentation you need to start working with your preferred Azure development technology.