 BACKGROUND IMAGE: iSTOCK/GETTY IMAGES
Problem solve
Get help with specific problems with your technologies, process and projects.
Unlock Windows Azure development in Visual Studio 2013 Preview
Microsoft released the Visual Studio 2013 Preview on June 26, but developers couldn't take full advantage of the preview's new cloud features, such as push notifications, until recently.
Microsoft's accelerated update schedule for Visual Studio appeared at first to have caught the Windows Azure team off-guard. Corporate vice president S. "Soma" Somasegar outlined the new features of the Visual Studio 2013 Preview and announced its availability for download at this summer's Build developer conference in June. Of particular interest to Windows Azure developers were the new features:
The capability to create and edit new Mobile Services (WAMS) in the Visual Studio IDE
Right-click publishing with preview, per-publish profile web.config transforms and selective publishing with diffing for Web Sites (WAWS)
A tree view of Windows Azure subscriptions and dependent resources in the Server Explorer (see Figure 1)
Windows Azure Active Directory (WAAD) support for Web applications
However, the Visual Studio (VS) 2013 Preview didn't support the then-current .NET SDK 2.0 for Windows Azure. Therefore, most Azure-oriented developers elected to wait for an updated SDK to avoid the inefficiency of different developer environments for cloud and on-premises .NET app development.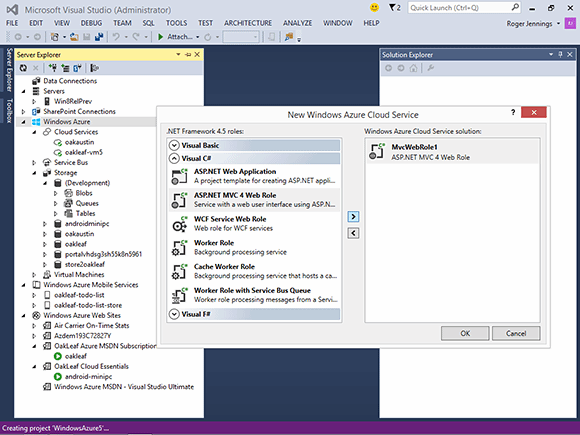 Figure 1. VS 2013 Preview's enhanced Server Explorer running under Windows 8.1 Preview displays Azure subscriptions and attendant resources in a hierarchical tree view; creating a new Windows Azure Cloud Service offers a choice of six Web or worker roles.
VS 2013 Preview wasn't off-limits to Windows Azure developers for very long. Scott Guthrie announced the release of the Windows Azure SDK 2.1 for .NET on July 31. According to Guthrie, this SDK offers the following new features:
Visual Studio 2013 Preview support: Windows Azure SDK now supports the new VS 2013 Preview
Service Bus: New high availability options, notification hub support, improved VS tooling
Visual Studio 2013 VM image: Windows Azure now has a built-in VM image for hosting and developing with VS 2013 in the cloud
Visual Studio Server Explorer Enhancements: Redesigned with improved filtering and auto-loading of subscription resources
Virtual machines: Start and Stop VMs with suspended billing directly from within Visual Studio
Cloud services: Emulator Express option with reduced footprint and Run as Normal User support
PowerShell Automation: Lots of new PowerShell commands for automating Web sites, cloud services, VMs and more
Hot on the SDK's heels came an updated Windows Azure Training Kit (WATK) with new and refreshed content for the SDK for .NET 2.1.
Mobile applications rule the app roost
Azure support by for mobile application development has gained momentum with WAMS cloud back-ends for Android, iOS, Windows Phone and Windows 8 clients. Notification hubs provided by the Windows Azure Service Bus, which the team introduced as a preview in January 2013, also depend on the SDK 2.1 for .NET. Guthrie reported the general availability of Windows Azure Notification Hubs (WANH), as well as other new and enhanced Windows Azure features, in a blog post, which included the following:
General availability release of Windows Azure Notification Hubs, which broadcast push notifications for Windows 8, Windows Phone, iOS and Android
SQL Server AlwaysOn support: General availability support with Windows Azure virtual machines for high availability and disaster recovery
Schedule-based AutoScale rules and richer logging support
Virtual machines: Load balancer configuration and management
Management services: New portal extension for operation logs and alerts
Guthrie also discussed Bing News' use of WANB to deliver breaking news notifications to millions of Windows 8 devices with Windows Notification Service and Windows Phones with Microsoft Push Notification Services. WANH handles all publish/subscribe filtering logic (see Figure 2).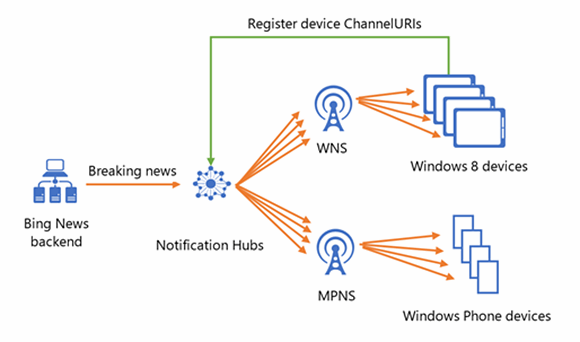 Figure 2. The Bing News app uses Windows Azure Service Bus Notification Hubs to immediately broadcast an appropriate message to Windows 8 and Windows Phone devices.
WANH general availability arrived just in time. Amazon Web Services announced the capability to use Amazon SNS for push notifications to mobile devices on August 13. The race for supremacy in cloud support of mobile devices is heating up.
About the author:
Roger Jennings is a data-oriented .NET developer and writer, a Windows Azure MVP, principal consultant at OakLeaf Systems and curator of the OakLeaf Systems Inc. and Android MiniPCs and TVBoxes blogs. He's also the author of more than 30 books on the Windows Azure Platform, Microsoft operating systems (Windows NT and 2000 Server), databases (SQL Azure, SQL Server and Access), .NET data access, Web services and InfoPath 2003. More than 1.25 million English copies of his books are in print, and they have been translated into more than 20 languages.