Evaluate
Weigh the pros and cons of technologies, products and projects you are considering.
Visual Studio 2013 launch brings free Azure-based VSO preview
Free Visual Studio Online tools give Azure developers source-code control and application lifecycle management capabilities.
Even though Microsoft made available its Visual Studio 2013 for developers in the fall, it waited until recently to release Visual Studio Online, which enables source code control and simplifies application lifecycle management in Windows Azure.
A Windows Azure-based Visual Studio Online (VSO) public preview is available for Visual Studio 2013, with free basic previews for up to five developers. In a blog post, S. "Soma" Somasegar, corporate vice president of the developer division, described VSO's components, most of which are cloud-based implementations of on-premises Team Foundation Server 2013 features:
Hosted source control -- Provides an unlimited private source code repository and lets you check code directly into Visual Studio, Eclipse or any Git client. You can use Team Foundation Version control or Git for distributed versioning.
Build service -- Enables continuous integration. You can build or rebuild projects on demand, nightly or after every check-in, and automatically deploy builds to Windows Azure. All Visual Studio Online users receive 60 minutes per month of free build services.
Work items and Agile planning services -- Supports the build-and-deployment process with templates for Scrum.
Elastic load test service in Windows Azure cloud -- Lets developers quickly scale up to simulate large numbers of concurrent users. All VSO users get 15,000 free virtual user minutes per month.
Application Insights service -- Generates data about application availability, performance and usage and analyzes the data to measure the application's overall health.
The new "Monaco" lightweight, browser-based editor for Windows Azure Web Sites -- Facilitates development in the cloud.
Like other Microsoft Software as a Service (SaaS) cloud offerings, such as Office 365, the pre-built, pay-as-you-go Visual Studio Online services minimizes or eliminates upfront costs for computers and related infrastructure and development software. Most developers using Visual Studio on-premises likely will start with a free Visual Studio Online account by signing up at the visualstudio.com site and defining a test project (Figure 1).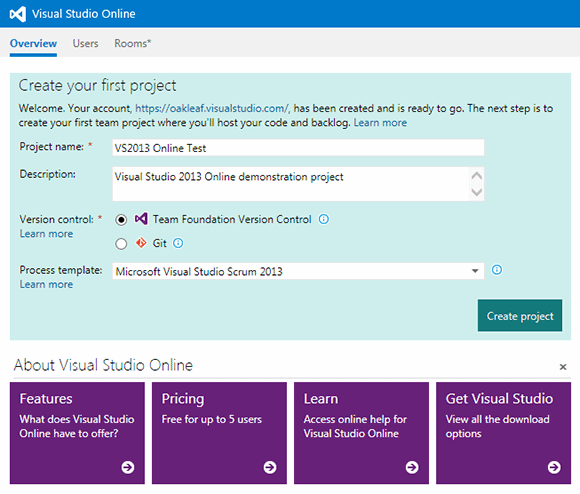 Figure 1. Creating a new VSO test project
If you've created a SharePoint website with Office 365, you'll be assigned a personalized account URL automatically, such as https://oakleaf.visualstudio.com. To create a new VSO project, type a project name and description and click "Create Project." Click "Allow" to create a local project workspace at \Users\UserName\Source\Workspaces\ProjectName to sync with your online VSO repository.
Visual Studio Online user plans and pricing
You can create a VSO account in Windows Azure for any of the following categories:
Visual Studio Online Basic: Includes access to code repositories, planning and tracking tools, team collaboration capabilities and the Visual Studio Express development environment. The first five users per account with the Basic plan are free and don't require a credit card. During the preview, it costs $10/month each for additional users; $20/month thereafter.
Visual Studio Online Professional: Includes all of the capabilities available in the Basic plan, plus use of the Visual Studio Professional development environment. You can purchase up to 10 users with the Visual Studio Online Professional plan. During the preview, the cost is $22.50/month for up to 10 users; $45/month thereafter.
Visual Studio Online Advanced: Includes all of the capabilities available in the Basic plan, as well as advanced team collaboration, project planning and tracking tools, and stakeholder feedback requests. The number of users on an account is unlimited. During the preview, the cost is $30/month per user; $60/month thereafter.
You can add an unlimited number of Visual Studio Professional, Test Professional, Premium and Ultimate with MSDN subscriptions at no charge to any of the three user plans.
If you're new to source code control for Visual Studio 2013 or don't want to expend resources on upgrading your onsite TFS infrastructure, it's useful to take advantage of the free Basic plan, an existing Visual Studio with MSDN subscription or the 50% preview discount for the Professional or Advanced plans. If you're developing for Windows Azure, you'll find the Build services will increase your deployment efficiency greatly.
About the author:
Roger Jennings is a data-oriented .NET developer and writer, a Windows Azure MVP, principal consultant at OakLeaf Systems and curator of the OakLeaf Systems Inc. and Android MiniPCs and TVBoxes blogs. He's also the author of more than 30 books on the Windows Azure platform, Microsoft operating systems (Windows NT and 2000 Server), databases (SQL Azure, SQL Server and Access), .NET data access, Web services and InfoPath 2003. More than 1.25 million English-language copies of his books are in print, and they have been translated into more than 20 languages.