Evaluate
Weigh the pros and cons of technologies, products and projects you are considering.
Windows Azure updates create full-service cloud
Microsoft demonstrated myriad updates for Windows Azure, finally making the platform competitive with AWS in the IaaS market and pleasing developers.
Microsoft's Windows Azure Team rolled out a monumental "Spring Wave" of additions and upgrades to its formerly...
Continue Reading This Article
Enjoy this article as well as all of our content, including E-Guides, news, tips and more.
PaaS-centric cloud services in a move to broaden its appeal to developers, IT managers, enterprise CIOs and other C-level execs. Highlights include:
WAVM users can select a Linux OS from a gallery offering OpenLogic CentOS 6.2, SUSE Enterprise Server, openSUSE 12.1 and Ubuntu Server 12.04 LTS (Figure 2). WAWSs offer the choice of Acquia Drupal 7, DasBlog, DotNetNuke Community or Professional Edition, Drupal Commerce Kickstart, Joomla! 2.5, mojoPortal, Orchard CMS, Umbraco CMS 5 or WordPress CMS and e-commerce apps, as well as ClearDB's MySQL distribution. Source code for Windows Azure SDKs and client libraries is published under an Apache 2 license and maintained in Git repositories. You can deploy apps to Web Sites with FTP, Git, TFS and Web Deploy.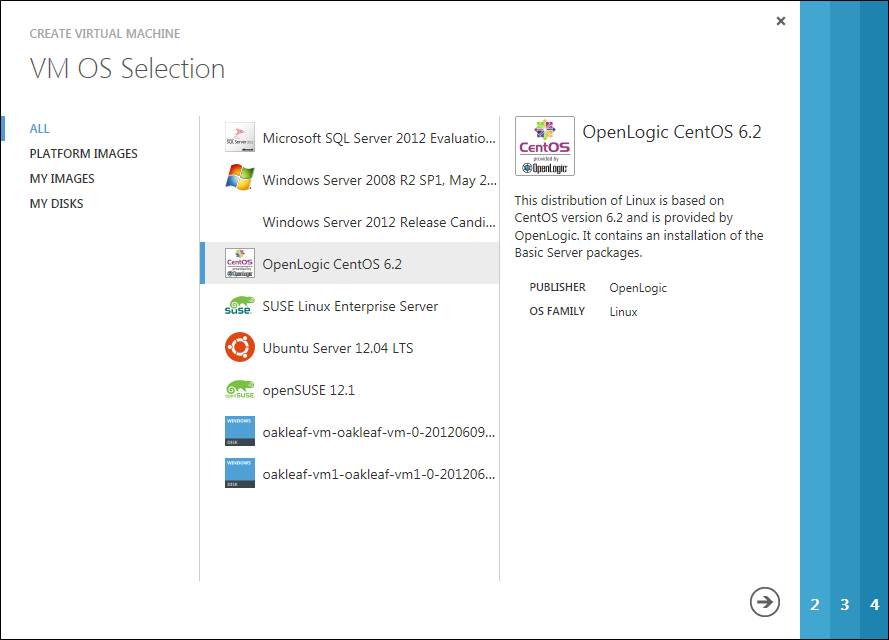 Figure 2. Step 1 in the Create Virtual Machine process offers more Linux than Windows server options. The remaining three steps configure and deploy the VM.
Cramming all these new features into a single mega-release, instead of taking Amazon Web Services' approach of doling them out weekly, can cause information overload.
Scott Guthrie promises future Windows Azure upgrades and updates won't be of "Spring Wave" magnitude, but will occur in smaller, more frequent doses. In the meantime, Windows Azure now stands in good stead to head off competition from recent Infrastructure as a Service entrants, such as IBM, HP and Oracle.
Below is a list providing substantial links to "Spring Wave" articles and demos by the Windows Azure team, Windows Azure and BizTalk MVPs and Microsoft execs.
Windows Azure "Spring Wave" documentation and resources

Windows Azure SDK 1.7, Visual Studio Tools for Windows Azure and Python
Management portal and Window Azure Management REST API
Windows Azure networking tutorials from the Azure team
Virtual machine configuration with Windows Azure
Azure websites
Windows Azure Storage
Windows Azure Cloud Services

*Windows Azure or BizTalk MVPs
Roger Jennings is a data-oriented .NET developer and writer, a Windows Azure MVP, principal consultant of OakLeaf Systems and curator of the OakLeaf Systems blog. He's also the author of 30+ books on the Windows Azure Platform, Microsoft operating systems (Windows NT and 2000 Server), databases (SQL Azure, SQL Server and Access), .NET data access, Web services and InfoPath 2003. His books have more than 1.25 million English copies in print and have been translated into 20+ languages.
Dig Deeper on PaaS and other cloud development platforms