Definition
multi-cloud strategy
Multi-cloud strategy is the concomitant use of two or more cloud services to minimize the risk of widespread data loss or downtime due to a localized component failure in a cloud computing environment. Such a failure can occur in hardware, software, or infrastructure. A multi-cloud strategy can also improve overall enterprise performance by avoiding "vendor lock-in" and using different infrastructures to meet the needs of diverse partners and customers.

Download this free guide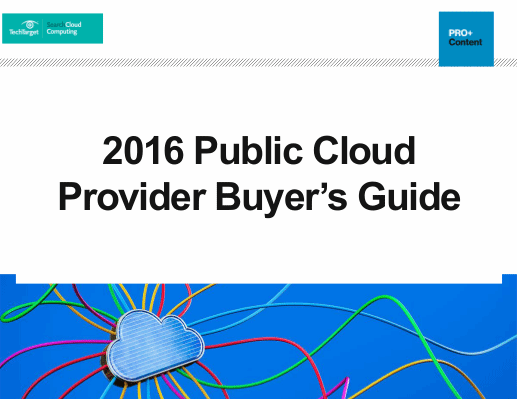 Download: Your guide to the Public Cloud
It has become a daunting task for IT administrators to determine which, if any, cloud provider is right for their enterprise. This exclusive guide walks readers through the benefits of using public cloud services, how to weigh the pros and cons of each cloud provider, and more.
By submitting your personal information, you agree that TechTarget and its partners may contact you regarding relevant content, products and special offers.
You also agree that your personal information may be transferred and processed in the United States, and that you have read and agree to the Terms of Use and the Privacy Policy.
Reasons for an adverse cloud event can vary from a single cable connector failure to an EMP (electromagnetic pulse), or from a natural disaster to an act of cyberwarfare. Even the failure of a single hard disk/drive unit can result in a large-scale network outage if the malfunction takes place at a critical point in the system such as a host computer.
As customer bases and device types grow increasingly diverse (yet at the same time increasingly specialized), organizations face a complex array of challenges in their quest to satisfy the demands of all end users. In particular, the speed with which a given Website loads has a huge impact on customer satisfaction. Recent research has revealed that the average user expects a Webpage to load just as fast on a mobile device as it would on their home computer (two seconds or less). Because faster page loading results in more frequent and longer visits to a given Website, page loading time can indirectly affect rankings in search engines. A multi-cloud strategy can help an organization to minimize page loading times for all types of content.
A multi-cloud approach can offer not only the hardware, software and infrastructure redundancy necessary to optimize fault tolerance, but it can also steer traffic from different customer bases or partners through the fastest possible parts of the network. Some clouds are better suited than others for a particular task. For example, a certain cloud might handle large numbers of requests per unit time requiring small data transfers on the average, but a different cloud might perform better for smaller numbers of requests per unit time involving large data transfers on the average. Some organizations use a public cloud to make resources available to consumers over the Internet and a private cloud to provide hosted services to a limited number of people behind a firewall. A third type of cloud, called a hybrid cloud, may also be used to manage miscellaneous internal and external services.
Catastrophic or widespread failures of cloud-based systems are not mere hypothetical events. On August 7, 2011, Amazon experienced an outage at its cloud computing hub located in Dublin, Ireland, apparently caused by an electrical transformer malfunction. On February 29, 2012, Microsoft's Azure cloud management system experienced an outage that adversely affected users in parts of the United States and Europe for several hours. In either case, a multi-cloud strategy might have prevented the failures from causing significant service disruption.
Continue Reading About multi-cloud strategy
PRO+
Content
Find more PRO+ content and other member only offers, here.