IT's traditional role as an infrastructure provider is being challenged by cloud service providers, tight budgets and the technology needs of new digital business strategies. And these challenges aren't going away—the demand for new and efficient IT services are increasing as businesses adopt mobile devices and cloud services.
This demand also comes with little room for error. The business needs these new IT services quickly and reliably. Any delay or fire drill can cause the business to lose its competitive advantage and even revenue. IT has got to learn to be more strategic, and yet, it is stuck in the legacy way of operating.
The New Normal: IT as Business Partner
In this new era of service delivery, IT must evolve into a proactive partner for business initiatives. It's a change that demands IT increase operational efficiency and free up resources for strategic, revenue-generating, customer-focused initiatives. And this transformation must happen fast: a recent Gartner CIO survey finds that in five years, 37 percent of private-sector revenue will come from new digital business products and services, and 77 percent of public-sector processes will be digitized.
While not an easy shift, it's a valuable one. It's an opportunity to improve IT's reputation and align with business priorities. This requires IT to act as a business accelerator, by enabling new applications and business insights derived from information management and analysis.
How Does IT Achieve This Shift?
The key to transforming the way IT operates is to leverage the immense amount of ever-growing data from across its infrastructure to make fact-based decisions from both a service and business perspective. Without data-driven insights, it's difficult to accurately measure service performance.
Additionally, IT must look at its services holistically, whether virtual servers and networks or security and user support, to deliver a successful business service. This holistic view enables all consumers of the information, including IT and the business, to see overall performance in terms of services provided and end-user experience. The result? IT can anticipate problems before they become crises. It also moves from being reactive to proactive, and provides the service intelligence business users need.
What Is Service Intelligence?
A holistic, proactive approach to IT requires service intelligence, which is defined by three primary features:
Measures and reports on indicators relevant to the business
Unlocks operational efficiencies by collecting and correlating data across IT silos
Uses data analytics to provide business insights and drive decisions
Here is another way of looking at the three elements of service intelligence.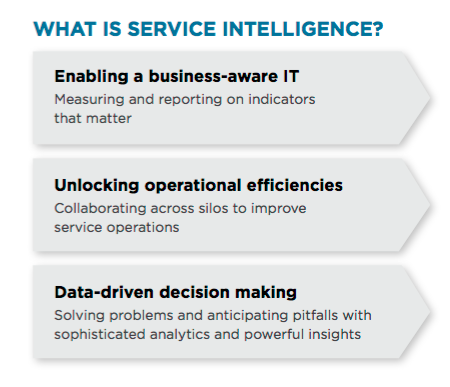 Given the complexity of the data generated by IT infrastructure, delivering service intelligence requires sophisticated software that can:
Automatically collect data from any system and application
Incorporate a data filtering and statistical engine to provide predictive analytics and facilitate problem-solving and troubleshooting
Enable anyone, both business users and IT, to produce visualizations and dashboards
Be easily customized by non-programmers to enable service-specific dashboard that measure relevant KPIs
Provide the ability to drill into data from visualization to see context and details
Now's the Time to Shift
IT is at a crossroads as new digital services, data-driven insights and decisions, and competitive agility require a fundamental reshaping of its role. IT must change from a traditional focus on infrastructure operations and reactive fire drills to proactive service management and intelligence.
An essential part of this evolution is for IT personnel to work on value-generating activities through the use of new data-driven software. Proactive IT requires tools that provide end-to-end service intelligence and reporting, automated data collection and analysis across IT silos with customizable visualizations and dashboards that use data and machine learning to drive intelligence.