Multi-cloud computing demands careful IT cost allocation
A multi-cloud environment has its benefits, but without proper management, cost allocation gets tough. Follow these tips for resource tagging, budget alerts and more.
Cost allocation and management for a single cloud platform can be difficult, and multi-cloud computing only amplifies...
Continue Reading This Article
Enjoy this article as well as all of our content, including E-Guides, news, tips and more.
that challenge.
A multi-cloud model enables enterprises to pick and choose services from various providers, which helps them avoid vendor lock-in and, in many cases, cut costs. According to 451 Research's Cloud Price Index, the use of services from multiple cloud providers can save up to 74% on direct expenditure compared to using a single provider, said Owen Rogers, research director of digital economics at the company.
But despite the cost benefits, there is significant management overhead when enterprises build, support and pay for multiple cloud platforms.
"Multi-cloud can provide a benefit -- but its execution is certainly not for the fainthearted," Rogers said.
Indeed, a multi-cloud deployment without proper cost controls can do harm to a business, said Troy Vetter, managing partner at Coda Global, a consulting firm and managed services provider. If a business offers a cloud-based service internally or externally and users start to depend on it extensively, the cloud deployment -- and its associated costs -- can grow far beyond what's expected.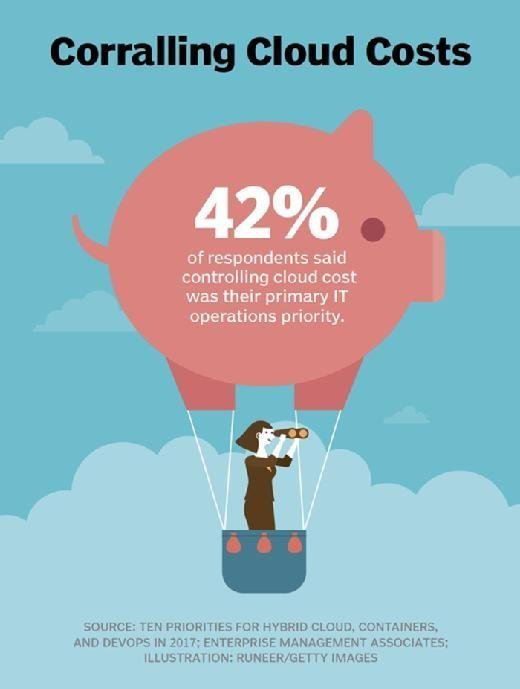 Cost allocation tips for multi-cloud computing
Organizations need to look at their culture of cost control, according to Lydia Leong, an analyst at Gartner. Begin with the basics, like asking developers to shut off test servers when they go home for the day. From there, it becomes more complex and requires more control.
The biggest challenge with cost allocation in multi-cloud computing is to keep track of all of the different accounts, applications and teams that use them. This requires a solid plan and operating model that includes automation and a tagging taxonomy, said Jason McDonald, president at Contino, a consulting firm.
Multi-cloud can provide a benefit -- but its execution is certainly not for the fainthearted.

Owen Rogers451 Research
"Organizations that don't implement a well-thought-out tagging structure that is automated into the build and design phases will be buried in detailed billing records and laborious manual tasks," he said.
Develop a tagging taxonomy that attaches a tag to each and every resource within a multi-cloud deployment, and map those tags back to a cost center. Admins can tag cloud resources using third-party tools or with JSON or YAML, which are open languages that many of the cloud-native tools use to enable tagging, McDonald said.
Admins should also implement budget alerts and can do so via DevOps methodologies that allow tagging and resource creation to go hand in hand. "No environment should be created without appropriate cost center ownership, an agreed budget and automated alerts," he added.
Lastly, enterprises should develop a strong account or subscription strategy at the onset of a multi-cloud deployment and always monitor billing, according to McDonald.
Pick the right tools
Enterprises can choose from a variety of provider-native and third-party tools for multi-cloud cost allocation. Native tools are a good option if you have a small deployment with a simple billing model, but third-party tools are the better choice for large deployments that represent millions of dollars in spend, Leong said.
To track costs and implement budget alerts in multi-cloud computing, organizations should lean toward a vendor-agnostic tool, McDonald agreed. Common third-party options include CloudHealth and CloudCheckr.
Dig Deeper on Cloud pricing and cost optimization